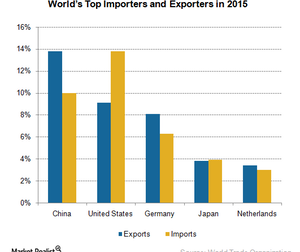 Could the Qualcomm–NXPI Deal Go Through amid Legal Turmoil?
By Puja Tayal

Feb. 1 2017, Updated 9:08 a.m. ET
Qualcomm–NXP deal important to both companies
In the previous part of the series, we saw that NXP Semiconductors (NXPI) is going through a slow growth phase. NXPI's high leverage and increasing competition is stressing its financial flexibility and growth. The best shot it has at boosting growth is by merging with Qualcomm (QCOM). Analysts believe that both companies have a better chance of growing together than individually.
NXPI investors are preparing to vote on the deal, and Qualcomm is getting its financing in place to fund the $47 billion acquisition. The companies plan to close the deal by the end of fiscal 2017. However, recent regulatory and political events have raised concerns whether this deal could go through.
Article continues below advertisement
Would Qualcomm–NXP deal pass the regulatory test?
Qualcomm (QCOM) was recently sued by the United States and South Korea over anticompetitive patent licensing practices. It is also being investigated by Taiwan, Japan, and Europe for similar reasons.
Instinet analyst Romit Shah believes that the legal tension could attract regulatory scrutiny of the international merger of the Netherlands-based NXP Semiconductors and the US-based Qualcomm. The deal needs approval from several countries, including the countries where Qualcomm faces legal tension.
Shah stated that regulators in the US, Europe, and Asia may delay their approval for the NXP acquisition, given the fact that it would strengthen Qualcomm's position in the wireless market and help it diversify in the automotive and IoT markets.
He also noted that the Qualcomm has a history of resolving legal disputes over licensing, which typically have taken some time to settle. Even if the company settles its current lawsuits, this could delay the NXP Semiconductors acquisition.
Could the Trump administration create trouble for the Qualcomm–NXPI deal?
President Donald Trump's policies, which could ignite a trade war with China (MCHI), have the potential to create another hurdle for the Qualcomm–NXPI deal. China is Qualcomm's largest market and most of its overseas cash is parked in this nation. A trade war between the US and China could risk the Qualcomm–NXPI deal as China's regulators may reject it.
At the CES (Consumer Electronics Show) 2017, NXP Semiconductors's CEO, Rick Clemmer, told Barron's that a trade war could possibly delay the merger but not cancel it. NXP Semiconductors has good relations with China, which could come in handy in getting the deal approved.
If the deal does not go through, it would have serious financial implications for both companies. We'll look into this in the next article.