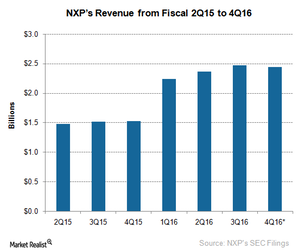 Could NXPI Report Incremental Revenue Growth in Fiscal 2017?
By Puja Tayal

Updated
Would NXP report revenue growth before merging with Qualcomm?
NXP Semiconductors (NXPI) is developing a varied range of products to cater to smart, secure, and connected devices ranging from mobile payments to automotive to ePassport. Most of the markets NXPI caters to are fragmented and design wins should take some time to materialize.
Article continues below advertisement
NXPI's revenue trend
Before the Freescale merger, NXP Semiconductors's (NXPI) revenue growth was almost flat. Since the Freescale acquisition in fiscal 1Q16, NXPI's sequential revenue growth rate has slowed from 5.6% in 2Q16 to 4% in 3Q16. The revenue is likely to be flat in 4Q16. For fiscal 4Q16, NXP expects to report revenues of ~$2.4 billion, slightly lower than the ~$2.5 billion in revenues reported in fiscal 3Q16. Analysts expect the company to report revenues of ~$2.4 billion.
Rival Texas Instruments (TXN) reported 7% sequential decline in fiscal 4Q16 revenues as strong demand from automotive and industrial was more than offset by declines in the personal electronics market.
NXP's fiscal 1Q17 revenues could fall further as it completes the sale of its STDP (Standard Products) Division, which contributed 13% toward the company's revenues in fiscal 3Q16. Assuming revenues are flat in fiscal 1Q17, the removal of STDP would reduce NXP's revenues to ~$2.2 billion.
What factors would bring incremental revenue growth for NXP? 
Consumers are increasingly using automotive electronics and new types of wearables, which is increasing the demand for processing and sensing devices. This is likely to bring incremental revenue for NXP Semiconductors in fiscal 2017 before it is acquired by Qualcomm (QCOM). Incremental revenue is the growth reported after removing the revenue growth coming from acquisitions.
NXP Semiconductors (NXPI) has been witnessing strong growth in the Secure Connected Devices segment as the adoption of mobile transactions and contactless POS (point of sale) systems increase. This trend is likely to continue in fiscal 2017, with adoption growing rapidly in China (MCHI) and other emerging markets.
Automotive could be the key growth driver of NXP Semiconductors's revenue in fiscal 2017 as the design wins secured in 2016 start to materialize. However, things are likely to be slow for NXPI's Secure Identification Solutions as the slowdown in China's bank card market would more than offset growth in e-government.
Next, we'll see if the Freescale merger synergies could help NXP Semiconductors improve its profit margins before the latter jumps into another merger.