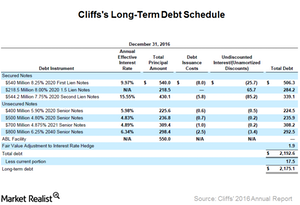 Is Cliffs' Debt Maturity Wall Falling Apart?
By Anuradha Garg

Dec. 2 2019, Updated 9:52 a.m. ET
Cliffs' capital market transactions
Cliffs Natural Resources' (CLF) has announced that it will offer 55 million shares at a public offering price of $10.75 per share on February 10, 2017. It also then announced that it will sell $500 million in senior notes due 2025. The notes will bear an annual interest rate of 5.75% and will be issued at a price of 100% of their principal amount.
The gross proceeds from equity offering to Cliffs should amount to ~$591 million. The company's intention is to use the net proceeds from the offering of notes and a portion of the net proceeds from equity offering to redeem all of its outstanding 8% 1.5-lien secured notes due 2020 and 7.75% second-lien senior secured notes due 2020.
Both of these offerings to fund the purchase of certain of outstanding senior notes due March 2020, October 2020 and April 2021.
Article continues below advertisement
Seizing the opportunity
Cliffs' seized this opportunity as its share price surged ~20% after delivering a very strong quarter to offer equity. During its 4Q16 earnings call, CEO Lourenco Goncalves stated: "We take dilution extremely seriously. But equity is a tool in the toolbox. We only use equity if it's ultimately accretive to the shareholders. If there's no accretion, there is no deal."
These transactions will also go a long way in reducing Cliffs' interest expenses. This will also take care of the "maturity wall" for Cliffs. Investors should note that Cliffs has a sizeable amount of debt coming due in 2020 and 2021.
The use of proceeds from the bond and equity offering will help lower the wall and also push it further into the future, making it much more manageable and much less of an issue for the company.
Bond holders rejoice
These transactions were positive news for Cliffs's bond holders. According to com-unik.info, "An issue of Cliffs Natural Resources' debt rose 4.9% against its face value during trading on Friday. The debt issue has a 6.25% coupon and will mature on October 1, 2040. The debt is now trading at $89.50."
S&P and Moody's also upgraded Cliffs' ratings by two notches due to the company's efforts at liability management and improved outlook.
Due to improved US steel market conditions, US steelmakers (SLX) such as US Steel (X), AK Steel (AKS) and ArcelorMittal (MT) have also improved their financial conditions considerably.