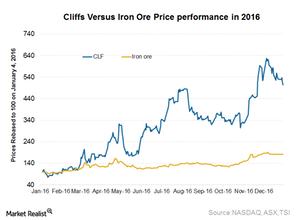 Why Cliffs Stock Takes Cues from Seaborne Iron Ore Prices
By Anuradha Garg

Updated
Iron ore prices
Iron ore prices finished 2016 with more than an 80.0% rise. The average for seaborne iron ore prices in 2016 was $58.50 per ton, but the consensus called for a further downside.
Higher-than-expected Chinese demand, which was supported by a government stimulus, and lower-than-anticipated production growth from iron ore giants led this rally. In part, the rally was also supported by speculative activities in the iron ore futures trade.
Donald Trump's win in the US presidential election added fuel to iron ore's already steady gains, causing futures markets to explode.
Article continues below advertisement
Impact of seaborne prices on Cliffs
Most of Cliffs Natural Resources' (CLF) revenues and earnings are tied to its contracts in the US steel market. But CLF stock is very sensitive to movements in seaborne iron ore prices. Its Asia-Pacific iron ore segment is directly exposed to the seaborne trade. However, it has less than three years of mine life left.
Seaborne prices also play a part in fixing contract prices in the US steel market (SLX). That could be why, despite being very lightly exposed to the volatile seaborne iron ore trade, CLF stock takes so much cue from it. In the seaborne market, Cliffs's direct peers include Vale (VALE), Rio Tinto (RIO), and BHP Billiton (BHP) (BBL).
Seaborne price outlook
There are many factors that affect seaborne iron ore prices. The most significant of them is supply growth and demand from China, which consumes more than two-thirds of seaborne iron ore. The People's Bank of China increased short-term interest rates on February 2, 2017. That will most likely impact the country's property sector and other investments.
It's worth noting that iron ore prices rallied in 2016, mainly on the back of a buoyant real estate market in China, which was supported by the government. If the government's decision regarding prices impacts construction demand negatively, seaborne prices could fall.
In the next part, we'll look at the main factors that are impacting seaborne iron ore demand.