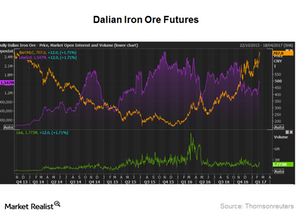 Chinese Iron Ore Futures: Your Outlook
Chinese iron ore futures
Chinese iron ore futures had been on a roll for six days in a row until February 14, 2017. The most active May 2017 iron ore contract was trading at 712 Chinese yuan per ton—the highest level in three years.
While many market participants are wondering if this situation is just a repeat, however, of what we saw last year, when iron ore prices climbed steeply in March 2016 on speculative frenzy. But volumes this time are much lower than what they were back then.
Article continues below advertisement
Volumes lower than last year
According to Reuters columnist Andy Home, "volumes are nowhere near the extreme levels seen over the first and second quarters of 2016. Even with a noticeable pick-up into the current price rally total volumes have averaged 1.43 million lots per day so far this year. At the peak of last year's frenzy, in April, daily volumes were averaging 6.63 million lots."
Positive momentum
Meanwhile, futures have been gaining positive momentum, generated by the strong trade data and robust steel production outlook in China. The Chinese (FXI) (MCHI) government's campaign against pollution is also leading to vocal support for capacity cuts from inferior sources of iron ore, which should support iron ore giants such as BHP Billiton (BHP), Rio Tinto (RIO), and Vale SA (VALE). Notably, at the same time, the positive momentum in the paper market has also been pulling up the spot prices.