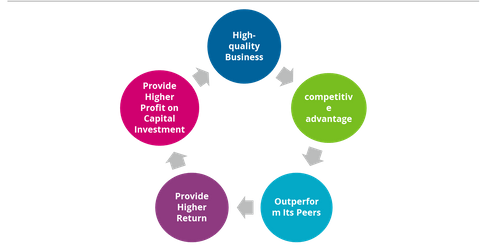 Charlie Munger Describes How to Make Money in the Market
By Sarah Sands

Updated
Charlie Munger at the annual meeting of the Daily Journal
Charlie Munger, the billionaire investor who is well known for his investment strategy, discussed some of his strategies and favorite stocks at the annual meeting of the Daily Journal in February 2017. He's the vice chairman of Berkshire Hathaway (BRK-B), the director of Costco Wholesale, and the chairman of the Daily Journal. He's also well known for his leading investments in Berkshire Hathaway and an important partner in Warren Buffett's tremendous success.
Article continues below advertisement
Munger on making money
According to Munger, there are some simple steps to make money in the market (SPY) (QQQ). He thinks the best way is to look at the quality of any business. If it's a high-quality business, it could provide good returns. He said, "The big money's been made in the high quality businesses."
A high-quality business has more competitive power. It should be able to provide "sustainable competitive advantage," according to Munger. That indicates that the company should have some characteristics such as access to highly trained manpower or access to natural resources that allow it to outperform its peers or competitors. The business should be able to provide higher returns and higher profits on capital investment.
Overall, the strategy is that making an investment in the market (IVV) (IWM) (VOO) needs to be selective for a particular business. Munger also believes that when investors find a few ways to make money in the market, they should invest aggressively.
When shareholders asked Munger how to invest in the market, he said, "You know the good ideas that I've had in my life are quite few. But the lesson I can give you is a few is all you need and don't be disappointed. When you find the few of course, you've got to act aggressively. That's the Munger system."
In the next part of this series, we'll look at Munger's view on Berkshire's investment in Apple (AAPL).