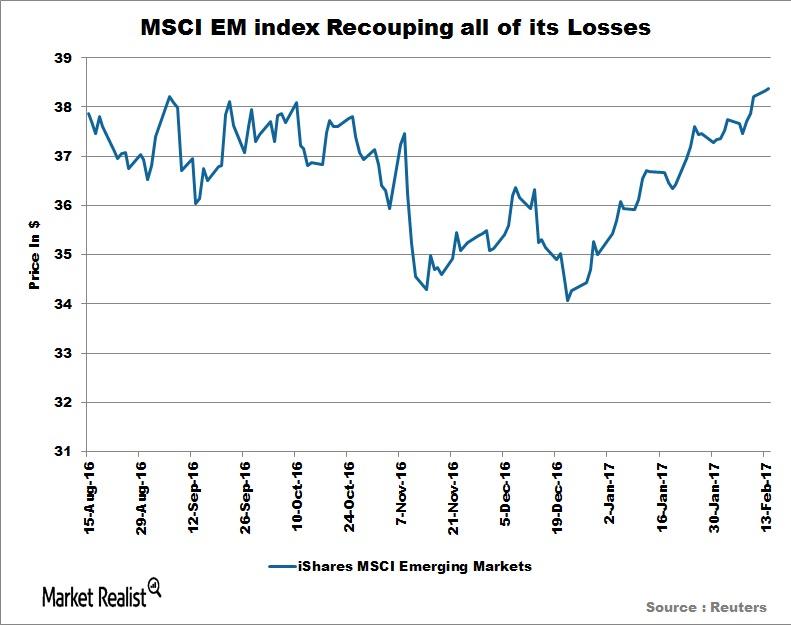 A Case for Emerging Market Bonds
VanEck
The emerging markets bonds market has evolved significantly over the past two decades, growing in both size and diversity. The market's growth reflects the dynamic structural reforms that have transformed many emerging markets economies and helped boost economic growth. Also, investor understanding and appetite for emerging markets bonds has increased significantly as more investors recognize the asset class's potential income and diversification benefits.
In this blog series, we advance the case for investing in emerging markets bonds and identify some of the potential opportunities the asset class may offer in today's market environment.
Article continues below advertisement
Emerging Markets Bonds is a Significant Asset Class
The emerging markets debt asset class has grown tremendously in the past two decades. It now has a market capitalization of more than $3.6 trillion (as of October 31, 2016), as measured by J.P. Morgan's emerging markets bond indices, versus approximately $1.1 trillion ten years ago. In addition to its growing size, the emerging markets debt market has become incredibly diverse and now includes bonds issued by sovereign, quasi-sovereign, and corporate entities in both hard currencies (mainly U.S. dollars and euros) and local currencies.
Growth in the market size has been driven primarily by the increased issuance of local currency-denominated sovereign bonds, as well as corporate bonds. The emerging markets corporate debt market alone nearly equals the size of the U.S. high yield bond market. Many foreign investors gravitate towards hard currency sovereign and corporate bonds, typically those denominated in U.S. dollars, to limit currency risk. However, the local currency market far exceeds the hard currency market in size.
Article continues below advertisement
With local bond markets, some emerging markets countries impose capital controls, taxes or other hurdles that may impact a foreign investor's ability to access the market effectively and efficiently. These restrictions may reduce the tradeable size of the local currency market. It is worth noting, however, that a significant amount of that reduction comes from China's exclusion from investable global bond market indices. China has undertaken a series of reforms that are gradually opening up its massive onshore market to foreign investors.
Market Realist
Emerging markets are off to a stellar start
Emerging markets (EMLC) took a beating after the US elections on November 8, 2016, due to concerns over Donald Trump's protectionist policies. Investors feared that the new administration would be negative on global trade and capital flows. The MSCI Emerging Markets Index fell a 7.0% in the days after Trump won.
But since the election, emerging markets (EMB) (EMAG) (IGEM) have bounced back as though the election never happened. The MSCI Emerging Markets Index erased all of its losses and closed at the highest level since October 2016. January 2017 got off to a stellar start with investors pouring $40.0 billion into ETFs. Equity funds were their prime destination. All this could be a sign that investors aren't expecting the Trump administration to pressure emerging markets.
Even domestic crises in Nigeria didn't stop investors from making bids of almost $8.0 billion for a $1.0 billion Nigerian bond offer in February 2017. As of February 14, 2017, the yield premium demanded by investors has fallen to a two-year low, and the MSCI index of developing markets has risen 8.0%, outperforming the S&P 500 Index and the FTSE 100 Index.
Stock markets in Brazil, Argentina, Africa, the Philippines, and Chile are among the best performers in the comeback that started a month ago. They got further help from the weakness in the dollar.
As you can see in the above graph, the iShares MSCI Emerging Markets (EEM) erased all its losses after the election and reached its highest level since September 2016. Year-to-date, it has risen 9.2%. The benchmark S&P 500 Index rose 3.6% during the same period.