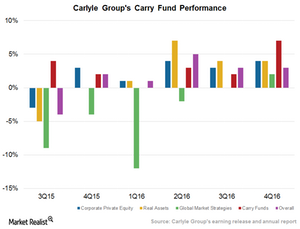 Carlyle's Portfolio Appreciated on These
By Robert Karr

Nov. 20 2020, Updated 5:17 p.m. ET
Portfolio performance
Carlyle Group (CG) managed 5% appreciation in portfolio valuation in 4Q16 and 12% in fiscal 2016, reflecting an improved performance on a YoY (year-over-year) basis. This was mainly due to appreciation in private equity, legacy energy, and real estate portfolio appreciation as well as to a rise in investment solutions.
Carlyle's private equity portfolio appreciated by 4% backed by growth in second and third European buyout funds and fifth US buyout funds, which were partially offset by 1% depreciation in the sixth US buyout fund. The sixth US buyout fund saw the deployment of $1 billion in 4Q16, resulting in a marginal depreciation. The fund appreciated 29% in 2016.
Article continues below advertisement
Carlyle's real assets appreciated 4% during 4Q16, mainly due to 9% appreciation in legacy energy holdings and 3% in real estate. The company saw a strong performance from its US real estate fund. Its global market strategies managed 2% appreciation, first over the past six quarters, reflecting a rebound in valuations.
As the Fed is expected to raise rates further in upcoming quarters, gains at global market strategies can be subdued, considering lower bond prices.
Major holdings
Carlyle's major public holding, Axalta Coating Systems (AXTA), fell 3.8% in 4Q16, while CommScope Holding (COMM) rose 24%, and Wesco Aircraft Holdings (WAIR) rose 11.3%. By comparison, the S&P 500 Index (SPY) rose 4.5% over the same period, mainly due to stable earnings, low-interest rates, and rising wages in the broader economy.
Carlyle Group's EPS (earnings per share) was $0.76 in the last financial year. By comparison, its peers posted the following EPS:
The company faces competition from traditional as well as alternatives that form part of the iShares US Financials (IYF).
Energy prices drive holdings
Carlyle Group's energy investments in the energy space have seen some revival, with its legacy energy portfolio rising 9% in 4Q16 due to rebound in oil prices (USO). Overall, the long-term outlook for oil remains subdued, mainly due to shale gas output at higher prices. 
On the demand front, manufacturing is slowing down in China and in other major exporting countries. However, there is a strong demand from India for commercial and industrial usage.
In the next part, we'll look at Carlyle Group's realizations and performance in the global market strategies.