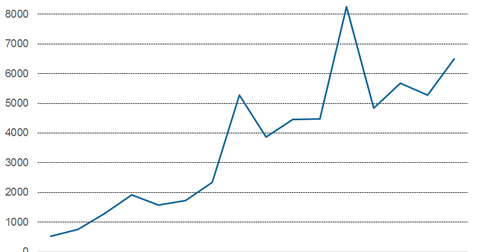 Can Fitbit's Device Sales Rise Year-over-Year in 1Q17?
By Adam Rogers

Updated
More than 6.5 million devices sold in 4Q16
Fitbit (FIT) sold more than 6.5 million devices in 4Q16, the highest number of devices sold after the 8.2 million it sold in 4Q15. The rise in the company's number of devices sold has been exponential—more than 300% in absolute terms since 2Q13. In 2016, Fitbit sold a record 22.3 million devices, compared to 21.4 million devices in 2015.
Fitbit's CEO, James Park, said that the paltry 4% YoY (year-over-year) unit growth of devices in 2016 wasn't due to competition. He attributed the slow growth to saturation in the innovator and early adopter segments. Fitbit has reportedly penetrated 19% of the eligible population in the United States (SPY).
IDC (International Data Corporation) expects the wearables market to grow 20% between 2016 and 2020. IDC has also stated that Fitbit continues to dominate the wearables market with a share of more than 25%. Fitbit had a share of 32.6% in 1Q15 prior to the launch of the Apple Watch (AAPL).
Article continues below advertisement
Adoption of fitness devices
According to Park, "We are continuing to see widespread adoption of connected health and fitness devices and acceleration of the consumerization of the healthcare industry," indicating that the company is optimistic about its long-term prospects.
Fitbit has sold over 60 million devices to date. In the past six quarters, it's sold over 34.5 million devices, generating over $2.7 billion in revenue. Fitbit believes that it's become consumers' preferred brand and is trusted by millions. Fitbit is also looking to improve its customers' interactive experiences, which should drive sales and support the network effect of its user community.
Fitbit stock fell 18% in January 2017 after the company lowered its revenue guidance to $572 million–$580 million for 4Q16, indicating lower-than-expected device sales. Analysts had expected the company to post revenue of $736.4 million in the quarter.