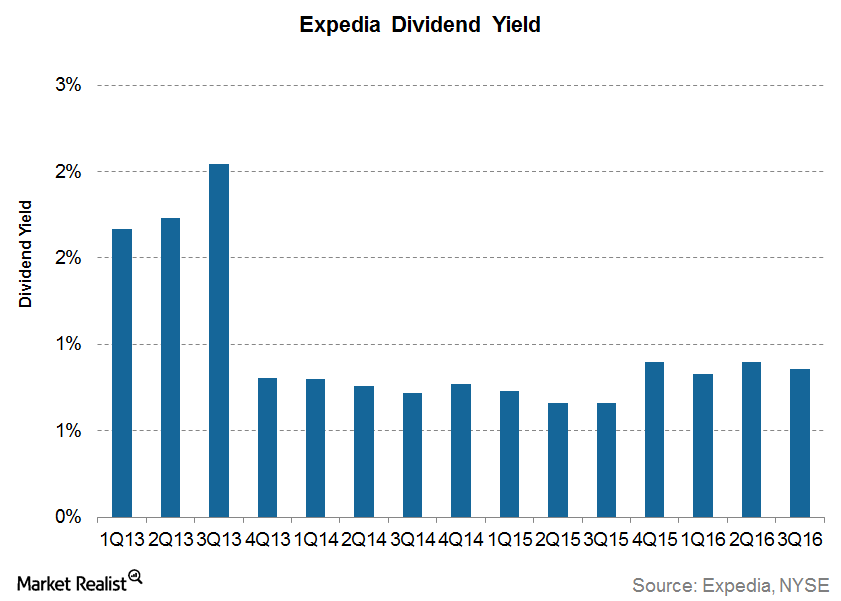 Can Expedia's Dividend Payout Increase?
Recent dividend payer
Article continues below advertisement
Dividend yields
EXPE has an indicated dividend yield of 0.86%. That's much lower than the S&P 500's (SPY) dividend yield of ~2.0%.
Cash dividend ratio
EXPE's cash dividend ratio was 0.88x at the end of 3Q16, which indicates its ability to nearly sustain dividend payouts. The ratio is calculated as income before extraordinary items minus minority and preferred dividends over dividends paid. It measures the ability of the company to pay dividends. A ratio less than 1.0x indicates that dividend payouts are higher than the company's cash flows, which may be difficult to sustain in the future.
Can dividend payouts rise?
EXPE is the only online travel player that pays dividends to its investors. It has also consistently increased those dividend payouts. But recently, EXPE has allocated more capital toward repurchasing shares.
With EXPE's increasing earnings and history of dividend growth, you can probably expect a rise in dividends. However, a Reuters consensus doesn't factor in any rise in EPS (earnings per share) for the next four quarters.
EXPE forms ~1.6% of the holdings of the First Trust NASDAQ-100 Ex-Technology Sector ETF (QQXT).