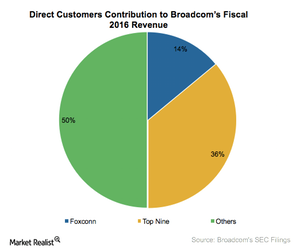 Broadcom's Strong Returns: A Look at the Risks
By Puja Tayal

Updated
Broadcom's strong returns come with risks
Broadcom (AVGO), which delivers strong dividend growth and capital appreciation to shareholders, has generated optimism. However, this growth comes with its own risks. The company has high leverage due to its aggressive acquisition strategy and concentrated customer base, as well as consolidation, and competition in the industry. Its leverage could hurt the company's growth in future and send the stock spiraling.
Article continues below advertisement
High leverage
Broadcom had no debt in fiscal 2013 and a ~$1 billion cash reserve. However, things changed after the its acquisition, for which Avago paid $17 billion in cash and $20 billion in stocks. The acquisition increased its leverage to $24 billion, prompting rating agencies to lower its credit ratings. Moody's reduced Broadcom's rating to "Ba2," and S&P dropped it to "BBB-."
Despite high debt and low credit ratings, Broadcom is making yet another acquisition— that of Brocade Communications Systems (BRCD), for a cash consideration of $5.9 billion. It will increase Broadcom's debt further. If rating agencies lower Broadcom's ratings further, the company would be forced to refinance its debt in the junk bond market. which would increase its interest costs.
Risk arising from consolidation
Broadcom's rapid growth pace is also exposing it to risk. While it's tending to the Brocade deal, it is still realizing synergies from the Broadcom deal. Broadcom's capability to realize cost synergies could be reduced as high leverage would limit its financial flexibility.
Consolidation in the semiconductor industry also poses a risk— it is resulting in fewer and bigger customers and competitors. With the 10% repatriation holiday promised by the Trump administration, companies would have more cash in their hand which could create a new wave of M&A (mergers and acquisitions).
Article continues below advertisement
Concentrated customer base
Broadcom has a concentrated customer base, with its top ten direct customers accounting for 50% of its revenue. Apple (AAPL) assembly Foxconn, one of these top ten customers, accounts for 14% of Broadcom's revenue. Broadcom's other customers also serve Apple. Based on the aggregate sales of these customers, Broadcom earns 20% of its revenue from Apple. If Apple were to discontinue or reduces its collaboration with any of its suppliers, it would impact Broadcom.
Strong competition
Although Broadcom is a leader in the wireless FBAR (film bulk acoustic resonator) and RF (radio frequency) filter market, Skyworks Solutions' (SWKS) surface acoustic wave filters are competitive. Next, we'll look at Broadcom's M&A strategy.