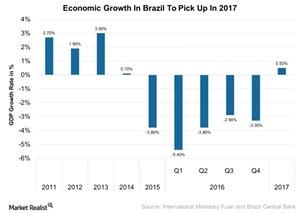 Is Brazil Showing Improvement in Its Economic Growth?
By Mary Sadler

Feb. 28 2017, Published 5:41 p.m. ET
Brazil struggles to pull itself out of recession
Brazil's economy (EWZ) (BRZU) is currently emerging from a severe and prolonged recession. Some of the reasons for the slump in the country's economy were political uncertainty, lower consumer and business confidence, and low investment.
Persistently low commodity prices have also impacted economic activity. The economy has shown signs of recovery as of 4Q16 after three years of recession and unemployment's rising from 4.5% to 12%. Let's look at the country's GDP growth rates from the last few years.
Article continues below advertisement
Reasons for the slump in the economy
As we can see, a gradual recovery in the economy started in 3Q16. On February 23, 2017, the Central Bank of Brazil reduced the benchmark rate by 75 basis points to 12.3% as the economy showed signs of recovery. Economic activity contracted in seven out of the ten quarters leading up to 2Q16. The reasons for this contraction in output other than the domestic political issues included the following:
Investments were continuously contracting, leading to decreased competitiveness and tighter financial conditions. Real private credit also fell in 2015 and 2016.
Consumption tapered due to deteriorating labor market conditions and tightening credit.
Fiscal policy was seen to be neutral in 2015 and 2016, with the non-financial public sector's primary deficit reaching 1.9% of GDP and the overall deficit reaching 10.4% of GDP in 2015. The main reason for these deficits was a fall in revenue collection.
Economic reforms are expected to improve economic activity in Brazil in 2017 as political uncertainty diminishes. The International Monetary Fund (or IMF) has projected economic growth of -3.3% for the country in 2016 and 0.5% in 2017.
Impact of slower economic growth
Sluggish growth has been affecting markets and returns across all sectors. Slower growth is expected to affect financial markets in the long run. Emerging markets' participation in global growth is rising, and Brazil was worth ~$3 trillion in 2016, according to the IMF's Economic Outlook database.
As a result, any slowdown in Brazil's economy will likely impact global ETF indexes such as the iShares MSCI ACWI ETF (ACWI) and the Vanguard Total World Stock ETF (VT). Some Brazilian companies included in these ETFs are Branco Bradesco (BBD) and Itau Unibanco Holding (ITUB), Ambev (ABEV), and Petrobras (PBR).
Let's look at Brazil's stock market performance compared to the global market's performance in the next article.