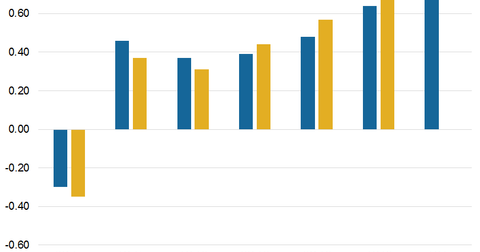 Blackstone in 2017 to Ride on PE, Real Estate, Hedge Funds
By Robert Karr

Updated
Performance across segments
The Blackstone Group (BX), the world's largest alternative asset manager, is expected to see earnings per share (or EPS) of $0.73 in 1Q17, compared to $0.68 in 4Q16 and $0.31 in 1Q16. The company has seen continued growth over the past five quarters after weaker performance in 2015. It has witnessed fund raises and deployments across the private equity, real estate, hedge funds, and credit markets.
Among the alternative asset managers, Blackstone is better positioned to take advantage of any strong rally in 2017. The company's diversification also enables it to garner revenues from credit markets and real estate during weak broad markets.
In 3Q16, Blackstone posted economic net income (or ENI) of $0.68, higher than analysts' estimates of $0.64. The company garnered 86% growth in its ENI to $812 million on the back of $1.6 billion in revenues. The company's growth was mainly due to the performance of its holdings in private equity, real estate, and hedge funds.
On December 31, 2016, Blackstone had assets under management (or AUM) of $366.6 billion, compared to $361.0 billion on September 30, 2016. The company managed new funds of $16.7 billion in 4Q16 and saw a rise in valuations, partially offset by higher realizations.
Blackstone's major drivers in 2017 are expected to be deployment at current valuations, broad market performance, and real estate growth.
Outperforming SPX
Blackstone provides alternative fund management services, including investment vehicles focusing on real estate, private equity, hedge fund solutions, credit markets, and funds of funds. The company attracts major competition from traditional and alternative asset managers forming part of the SPDR S&P 500 Index (SPY) (SPX).
Blackstone's revenue rose 10% in 2016 to $5.1 billion, backed by new assets and rises in the value of its investee companies. The revenue growth for Blackstone's peers Apollo Global Management (APO), Carlyle Group (CG), and KKR & Co. (KKR) rose 89%, 36%, and 83%, respectively, in 2016 due to a rebound in the performance.
In this series, we'll study Blackstone's expected private market performance, credit, public markets, dividends, and valuations in 2017. Let's begin with the expected performance of its private equity portfolio.
Article continues below advertisement