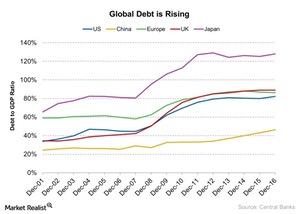 What Does Bill Gross Think about Global Markets?
By Sarah Sands

Updated
Bill Gross's February 2017 investment outlook
"Financial repression runs…in a circular motion," Janus Capital portfolio manager Bill Gross said in his February 2017 investment outlook. The bond guru also discussed central banks' quantitative easing program, which he believes won't end soon.
Article continues below advertisement
Bill Gross's take on the financial system
According to Bill Gross, the financial system is already filled with excessive debt. In 2003, central banks around the world (ACWI) (VTI) planned to introduce monetary policy tools that could reduce the cost of financing.
The global debt (SPY) (SPX-INDEX) (VGK) (EWJ) is reaching an all-time high. According to the IMF (International Monetary Fund), global debt reached $152 trillion in September 2016, which is more than double the debt in 2000. In 2003, central bank balance sheets were at $2 trillion, while at the end of 2016, these balance sheets reached $12 trillion.
The rising global debt is a burden for global markets. Not only are central banks buying bonds, but they have also lowered key interest rates nearly to 0%. In some economies, we've seen negative yields. Central banks primarily took these steps to rescue the economy after the 2008 global financial crisis. These activities also artificially inflated asset prices. Gross believes that the lower interest rate environment will continue in the future.
In the next part of this series, we'll analyze Bill Gross's view on economic equilibrium.