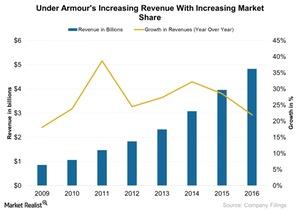 Baron: Under Armour Is Cheap Compared to the Last Couple of Years
Under Armour's 2016 performance
Under Armour (UA) is currently struggling to meet investors' expectations, as it missed analysts' estimates in 4Q16. The company reported a 12% rise in revenue in the quarter, missing expectations by $100 million. Some of the ETFs holding Under Armour include the Vanguard Mid-Cap Growth ETF (VOT) and the Consumer Discretionary Select Sector SPDR ETF (XLY).
According to Ron Baron, the company is facing rough waters due to a number of issues, including the following:
employee turnover
high inventory
lost distribution network of Sports Authority, one of the largest sellers of Under Armour products
Article continues below advertisement
According to Baron, UA's revenue has shown impressive growth, from $500 million to $5 billion, in the last ten years. The company posted revenue growth of ~22% in 2016, compared to 32% and 29% in 2014 and 2015, respectively. The company has one of the most impressive growth stories in the sportswear segment.
The compound average growth rate in UA's revenue is ~25% in the last ten years, leaving competitors such as Nike (NKE), Adidas (ADDYY), Columbia Sportswear (COLM), and Lululemon Athletica (LULU) in the dust. However, in 4Q16, the company's top line fell below the 25% mark for the year. Its revenue rose 22% to $4.8 billion, including a 19% increase in its wholesale revenue to $3.1 billion. Its direct-to-consumer revenue was $1.5 billion, a 27% rise compared to the same period in 2015.
According to Baron, UA stock is a good investment in terms of expected earnings growth over the next few quarters. Currently, the stock is trading at a price-to-earnings ratio of 47x, compared to the sector average 15.03x as of February 20, 2017. The positives as mentioned by Baron include the following:
The Sneakers and Women's Apparel businesses are worth ~$1 billion each and provide a significant opportunity for the company to scale up in a few years.
The company's online business also provides a significant opportunity, as global consumers are shifting toward online purchases.
There's an opportunity for overseas expansion, as China is a growing market for its products.
Two years ago, Baron Funds sold 10%–15% of its stock in Under Armour for tax adjustment purposes. Baron feels that the stock is currently cheap due to the fall in its share price in the last couple of years.
Let's look at Baron's views on Tesla (TSLA) in our next article.