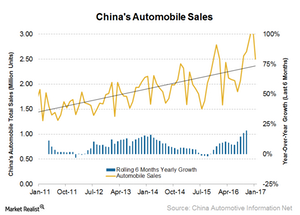 The Future of China's Auto Sales: Life after Sales Tax Breaks
China's auto sales
China's automotive industry is the second-largest steel consumer after the real estate sector. In this part of our series on iron ore, we'll look at recent trends in the Chinese automotive industry. We'll also analyze how auto sales could shape up in 2017.
Article continues below advertisement
Auto sales fall on tax increase
After rising by 9.1% YoY (year-over-year) in December 2016, auto sales declined by 1.1% YoY in January 2017 to 2.2 million units. Total vehicle sales, including trucks and buses, however, came in 0.2% higher YoY to 2.5 million units.
But investors should note that China's trade figures for January could be distorted, given the timing of Lunar New Year holiday, which falls at different times.
Total sales
For 2016, China's (FXI) total sales were 28.0 million units, 13.7% higher than its sales of 24.5 million units in 2015. The growth rate in 2016 was substantially higher than the growth rate in 2015, when auto sales rose 4.7%.
Higher automotive sales in the world's largest auto market tend to bode well for global steel demand. High auto sales also support seaborne iron ore players such as BHP Billiton (BHP), Rio Tinto (RIO), and Vale (VALE). ArcelorMittal (MT) is the leading steel supplier for the automotive sector. AK Steel (AKS) is a major supplier for US automotive companies.
Sales outlook
On September 30, 2015, China announced a 50% cut in its sales tax, from 10% to 5%, on autos with engines smaller than 1.6 liters. Earlier, the tax cut was effective until the end of 2016. However, China's State Council agreed to extend the cut, albeit at a higher rate of 7.5%.
The extension will be effective until the end of 2017. In 2018, it will revert to 10%. While auto sales could be lower than they were in 2016, people are still expected to take advantage of the lower tax in 2017. January's sales data could have been distorted so we'll need the data for a few more months to find out the trend for the sales data.
The SPDR S&P Global Natural Resources ETF (GNR) tracks the Natural Resources Index. Rio Tinto makes up 1.8% of GNR's portfolio holdings.
In the next and final part of this series, we'll discuss whether credit-fueled property growth is sustainable in China.