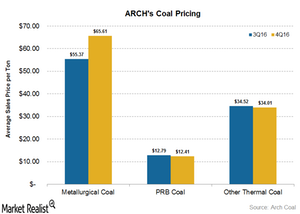 Arch Coal Beats Analyst's 4Q16 Revenue Estimates
By Sheldon Krieger

Feb. 13 2017, Updated 10:37 a.m. ET
Coal pricing
As discussed earlier in this series, Arch Coal (ARCH) witnessed a significant 18.5% increase in its average sales price per ton of its metallurgical coal in 4Q16 compared to 3Q16. According to company filings, in the Metallurgical segment, the company shipped 1.7 million tons of coking coal at an average realized price of $75.36 per ton, a 30% increase over the average realized price in 3Q16.
However, the average sales price per ton of the company's PRB (Powder River Basin) Coal and Other Thermal Coal segment decreased marginally on a quarter-over-quarter basis. For 4Q16, PRB coal prices came in at $12.41 per ton sold compared to $12.79 per ton in 3Q16. Prices in the Other Thermal Coal segment fell marginally to $34.01 per ton sold to $34.52 per ton sold in 3Q16.
Article continues below advertisement
Arch Coal's revenues
For 4Q16, Arch Coal (ARCH) reported revenues of ~$576 million compared to analyst estimates of $548 million. The deviation from analyst expectations was primarily due to higher pricing on new coking coal sales and stronger pricing on index-based contracts that the company shipped during the quarter. This also helped to offset the impact of increased shipments of lower-priced thermal and thermal by-product coal.
According to company filings, ARCH is projecting additional strengthening in the seaborne market, with sizeable increases in demand for high-quality, imported coking coal in India, as well as a continuation of the conditions that bolstered China's participation in seaborne markets in 2H17.
Moreover, the company expects that Trump's administration could constructively address the regulatory burden that has pressured the industry in recent years, resulting in stabilization of domestic thermal coal (KOL) demand in the intermediate term. Any regulatory easing under the new administration could also benefit ARCH's peers such as Westmoreland Coal (WLB), Peabody Energy (BTUUQ), Cloud Peak Energy (CLD), and Alliance Resource Partners (ARLP).
Next, we'll look into ARCH's 4Q16 operational performance.