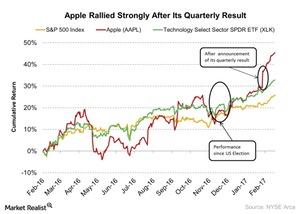 Is Apple Adding Value to Berkshire Hathaway's Portfolio?
By Sarah Sands

Updated
Berkshire Hathaway's position in Apple
On May 16, 2016, Berkshire Hathaway (BRK) took a new stake worth $1.0 billion in Apple (AAPL). After Apple reported its 1Q16 earnings on April 26, 2016, billionaire investor Carl Icahn exited his huge investment in Apple. He based his decision on increasing concern over China (FXI) (YINN) (ASHR). He thinks that China's weakness is already hampering the stock's price performance and will continue to hamper it in the future. After Carl Icahn exited his position, stock prices fell and Berkshire Hathaway took a new stake at that time. This method fulfilled Buffett's strategy of "don't be afraid to buy the dips."
Article continues below advertisement
Apple earnings
In the last five years, Apple's (AAPL) diluted net income rose 9.5%. In fiscal 2016, which ended on September 24, 2016, AAPL reported a diluted net income of $45.7 billion. Berkshire Hathaway owns around 1.1% of its total shares. According to the institutional ownership report, Berkshire Hathaway is the eighth largest investor in Apple and holds nearly 57.3 million shares as of 4Q16. Its total investment in AAPL is worth ~$7.9 billion. Thus, Berkshire Hathaway earned a return of 6.4% on its investments. In the fiscal year ending on September 24, 2016, AAPL's dividend payout ratio was ~26%.
On January 31, 2017, AAPL announced its quarterly financial results for the first quarter of fiscal 2017, which ended on December 31, 2016. It reported diluted EPS (earnings per share) of $3.36. The quarterly revenue and EPS for 1Q17 were at record levels. Revenue and EPS were driven by record iPhone sales. Its service segment also drove quarterly revenue because of growing traffic on the Apple store. Apple's growing customer base and services for its various product segments could be important growth drivers for the stock.
In its latest guidance, the management projects its revenue for fiscal 2Q17 to be in the range of $51.5 billion–$53.5 billion.
Has Apple outperformed the broader market in the last year?
In the last year, Apple has risen 47.4% as of February 24, 2017. The Technology Select Sector SPDR ETF (XLK) rose 32.2%, and the S&P 500 Index (SPY) (QQQ) (IVV) rose 25.7% over the same time period. AAPL accounts for ~14.8% of XLK's holdings. Clearly, AAPL has outperformed XLK and the broader markets.
In the next part of this series, we'll analyze how IBM is performing in Berkshire Hathaway's holdings.