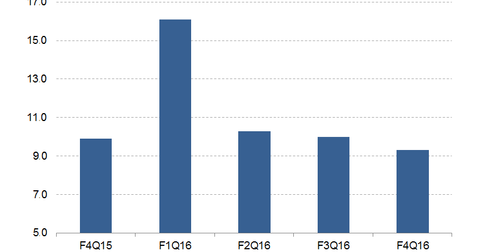 Another Apple Supplier Hints at Possible US Expansion
By Ruchi Gupta

Updated
Pegatron expansion could have negligible effect on employment
After Foxconn revealed plans to expand its US operations, another Apple (AAPL) supplier is contemplating a similar move. Pegatron, a parts supplier, has put measures in place to increase its US manufacturing capacity up to five-fold, in case there is a demand or political pressure on Apple to produce iPhones locally.
The Chinese Apple partner operates plants in Indiana and California, but these plants mainly produce repair and replacement parts, according to AppleInsider. Besides Apple, Pegatron also supplies parts to Dell and HP Inc (HPQ).
Because Pegatron does much of its manufacturing in China, the company only maintains a tiny workforce in the US, which means that even a five-fold increase in capacity wouldn't result in a significant number of new local jobs.
Pegatron's limited operations in the US also suggest that boosting capacity five times wouldn't be enough to meet Apple's component needs. Apple ships more than 40 million iPhones and about 10 million iPads every quarter.
Article continues below advertisement
Pressure on US companies to keep jobs in the country
US tech companies like Apple, Amazon.com (AMZN), Intel (INTC), and International Business Machines (IBM) are bracing for what might be long, rough ride under the Trump administration, given his warnings about jobs leaving the US.
If Trump presses for local manufacturing of US products, companies like Apple will have to find ways to source for supplies locally. This helps explain why Pegatron and Foxconn are exploring expanding their US capacity.
Currying favor with the new administration
Besides trying to do more manufacturing in the US to keep Apple's business, Pegatron's and Foxconn's US expansion drive could also be aimed at currying favor with Trump administration, given Trump's agenda for high job creation.
Notably, SoftBank, the parent company of US carrier Sprint (S), and Alibaba (BABA) are other foreign companies that have talked about creating US employment.