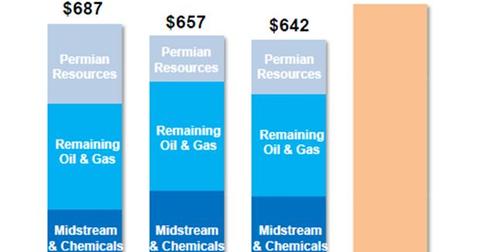 Analyzing Occidental Petroleum's Capital Expenditures Guidance
By Nicholas Chapman

Updated
Occidental Petroleum's capex guidance
In early 2016, Occidental Petroleum (OXY) guided its fiscal 2016 capital expenditures (or capex) at ~$3 billion. This is ~45% less than OXY's capex of $5.5 billion in 2015.
According to Occidental Petroleum's 3Q16 earnings call, its fiscal 2016 capital spending could come in slightly below its fiscal 2016 capital expenditure guidance.
In the first nine months of 2016, Occidental Petroleum (OXY) spent ~$2.0 billion in capital expenditures. This means OXY's 4Q16 capex would be slightly below $1 billion, which is much higher than the previous three quarters' spending rate.
Article continues below advertisement
Occidental Petroleum noted during its 3Q16 earnings call that the higher capital spending in 4Q16 is mostly due to seasonal maintenance in its Chemicals segment,. The increased capital spending in 4Q16 also resulted from project-related spending in its Midstream segment, which had been deferred for the later part of the year. OXY also plans to pursue several project opportunities in Colombia.
3Q16 capex
In 3Q16, Occidental Petroleum's (OXY) capex was within its operating cash flow of ~$656 million. Is OXY's 4Q16 capital expenditures guidance within its 4Q16 operating cash flow estimates? Will OXY produce positive free cash flow in 4Q16? We'll study OXY's cash flow estimates in the next article.
Article continues below advertisement
2017 capex guidance
For 2017, Occidental Petroleum expects higher capital expenditures that range from $3.3 billion–$3.8 billion. OXY plans to devote the majority of its 2017 capital budget to oil and gas development, with Permian Resources receiving the largest increase in capital.
More details on Occidental Petroleum's 2017 capital program will be released along with its 4Q16 earnings.