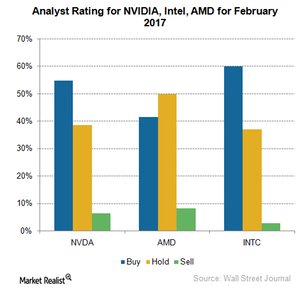 Analysts Are Saying This about Nvidia's Valuation
By Puja Tayal

Dec. 4 2020, Updated 10:52 a.m. ET
Analysts believe Nvidia and AMD stocks are overvalued
Although Nvidia (NVDA) reported exponential growth in earnings in fiscal 2017, analysts believe that this expectation of high growth is already factored in Nvidia's stock price, which rose by 224% in 2016. They expect the stock to pull back on the slightest bad news.
Advanced Micro Devices (AMD) stock, which grew almost 300% in 2016, is facing a similar situation. Notably, analysts are more optimistic about Intel (INTC) and expect the stock to perform in 2017.
Article continues below advertisement
Wall Street analysts' take on Nvidia
Wall Street analysts have a "buy" recommendation for Nvidia, but they recommend a "buy" after the stock price falls. This will be visible from the estimated average price target of $98. The stock is currently trading at a 17% premium from its target price and is closer to the bullish target of $129.
In 2016, Nvidia surpassed analysts' bullish price target in many instances. It's possible that the stock may do the same again because it's a growth stock that is fueling several industry-wide shifts. But it's still difficult to value growth stocks like Nvidia for the short-term.
Nvidia could be bigger than its current valuation
Nvidia's GPUs (graphic processing units) are at the forefront of self-driving cars and AI (artificial intelligence), which is the future of the connected world. Over the next ten years, there will likely be millions of autonomous cars on the road across the globe, and AI is just beginning to gather pace. Over the next ten years, AI will likely become the foundation of the majority of businesses, including medical, finance, and automotive.
Notably, Nvidia is now working with Japanese industrial robotics company FANUC to build a factory of the future, wherein everything is done by AI-powered robots.
Nvidia's dominant position in AI and autonomous cars indicates that it will play a key role in the future connected world. Nvidia is currently at its inflection point, and if it succeeds in making its vision a reality, its current earnings are just a drop in the ocean. For this reason, measuring such stocks on their current valuations does not give the whole picture.
That said, boutique research firm Citron Research has argued that Nvidia is overvalued. In the next and final part of this series, we'll examine Citron's argument.