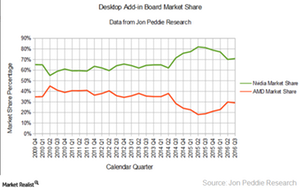 AMD's Force in the Gaming GPU Space: Should Nvidia Be Worried?
By Puja Tayal

Updated
Nvidia versus AMD
Nvidia's (NVDA) Gaming segment has reported strong revenue growth driven by demand for its high-end Pascal GPUs (graphics processing units). But this growth rate came at the cost of Advanced Micro Devices (AMD), which lost market share on the higher end of the market following the failure of its Fury GPUs in 2015.
AMD is now making a comeback in the high-end market with the launch of its Vega 10 GPU's in fiscal 1H17. There are rumors that Vega 10 GPUs will be competitive with Nvidia's upcoming GTX 1080 Ti.
Article continues below advertisement
 
AMD's Vega 10 GPU versus Nvidia's GeForce GTX 1080 Ti     
AMD's Vega 10 GPU is expected to feature HBM2 (High Bandwidth Memory 2) and come in variants of 8 GB (gigabyte) and 16 GB of RAM (random access memory). On the other hand, Nvidia's GeForce GTC 1080 Ti is expected to feature 12 billion transistors which are way higher than the GTX 1080's 7.2 billion transistors and come with 4.8 GB of RAM. The Ti version is expected to be priced between $650 and $1,200.
However, Nvidia did not unveil the most rumored GTX 1080 Ti at the 2017 Consumer Electronics Show 2017, where AMD unveiled the Vega 10 GPU. Pacific Crest analyst Michael McConnell stated that his team carried out a survey and found that channel inventory of GTX 1080 and 1070 was higher than expected, indicating a slowdown in the demand for high-end GPUs.
Madison.com suggested that Nvidia might have delayed the launch of GTX 1080 Ti to give channel partners some time to reduce their inventories. This is because GTX 1080 Ti would cannibalize the sales of GTX 1080.
Volta GPU
The next in line in Nvidia's GPU roadmap is the Volta GPU, which is expected to come in GTX 30 series—GTX 3080 and 3080 Ti in the high range, and 3070 in the mid range. However, the GTX 30 series is likely to be launched in 2018. Before that, Nvidia is likely to launch GTX 20 series in 2017, which would be based on an improved version of Pascal. The GTX 20 series will likely carry a lower price and perform better than the GTX 10 series.
The Volta GPU would feature HBM 2 and support Micron (MU) and Samsung's (SSNLF) GDDR6 memory. This GPU is rumored to be built on TSMC's (TSM) 12 nm (nanometer) process and feature 16 GB VRAM on 256-bit GPU.
But as growth in high-end gaming market slows, Nvidia is looking at new revenue streams within the gaming market. We'll look into these new revenue streams in the next part of the series.