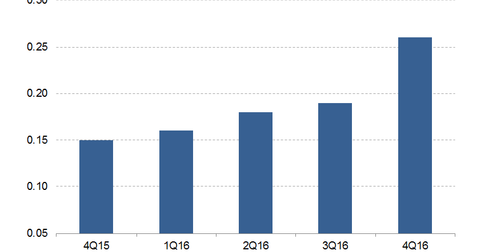 Alphabet's Ruth Porat Exercises Financial Discipline
By Neha Gupta

Feb. 17 2017, Updated 10:35 a.m. ET
Cost-cutting initiatives
Alphabet (GOOGL) has recently made moves, such as closing the Hands Free payment service, that have left investors and analysts wondering what's cooking in the company. Alphabet typically offers scant details about its moves. However, these details seem to revolve around cost-cutting initiatives as financial discipline takes center stage under its CFO, Ruth Porat.
If some investors had worried that Alphabet was taking too much risk with experimental programs such as drone Internet, Porat is trying to make every Alphabet branch account for every dollar it consumes.
The heightened financial control at Alphabet led to the company to cut some losses in its Moonshots segment to just over $1 billion in 4Q16. This compares to more than $1.2 billion in 4Q15. Revenues from the Moonshots segment, reported as Other Bets, rose 75% year-over-year to $262 million.
Article continues below advertisement
Hands Free goes the way of Titan
Financial controls at Alphabet have ranged from whittling down its workforce at some of the company's experimental businesses to completely shutting down some of those operations. The latest victim of the company's cost curtailment is Hands Free, a payment service that allowed users to pay for purchases in stores without having to reach for the smartphone in their pocket. Hands Free has gone the way of Titan, Alphabet's drone Internet project.
Alphabet promises a powerful comeback in hands-free payment
Hands Free was available on Alphabet's native Android platform and Apple's (AAPL) iOS. The service was supported by a few merchants such as McDonald's (MCD). However, Alphabet promised it would be back with a better hands-free payment technology.
As Alphabet exits the hands-free payment scene, albeit temporarily, Amazon (AMZN) is among the rivals it is leaving in the field. Apple, PayPal (PYPL), Visa (V), and MasterCard (MA) are also working to improve existing payment services.