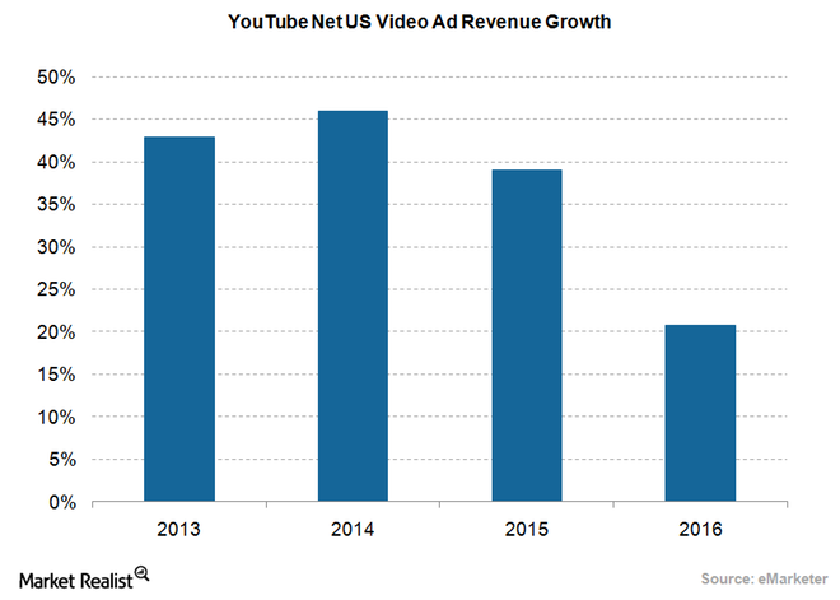 Alphabet Focuses on Nonadvertising Business for YouTube
By Neha Gupta

Feb. 20 2017, Updated 7:35 a.m. ET
Alphabet pursuing nonadvertising revenue
YouTube was one of the major growth drivers for Alphabet (GOOGL) in 4Q16, helping the company register a 22% increase in revenues to $26.1 billion. Research firm eMarketer estimates YouTube's US net ad revenues grew 21.1% in 2016, as the chart below shows.
Article continues below advertisement
Freeing YouTube from ad dependency
Although YouTube is primarily funded by ads, Alphabet (GOOGL) hinted at efforts to redirect the service to nonadvertising income at a time when competition for digital ad spending has intensified. In the video advertising space, Alphabet is competing for marketers' budgets against Facebook (FB), Twitter (TWTR), Verizon (VZ), and other providers.
In its effort to free its video business from depending on ad spending, Alphabet launched YouTube Red, a subscription service that costs $10 per month. YouTube launched Red in October 2015. Alphabet revealed during its 4Q16 earnings call that it has launched Red in five countries, including the US, Mexico, and Australia.
Though Alphabet doesn't disclose how many people are on its subscription video service, The Verge estimated that ~1.5 million people were paying for the service in late summer 2016. Another 1 million users used the trial version of YouTube Red during the same timeframe.
Attracting high-quality content to YouTube
To make YouTube Red more appealing to subscribers, Alphabet hinted at plans to continue investing in the acquisition of quality content and launching the service in more countries. Alphabet has been in talks with television networks to stream live video content on YouTube Red.
The market is willing to pay for premium video content
As Alphabet works grow its nonadvertising video revenue, it can look to Netflix (NFLX) for inspiration. Netflix has grown rapidly while charging subscribers for access to quality videos, including original movies, on its platform. Amazon (AMZN) is also investing in video content as part of the measure to make its Prime loyalty program more attractive.