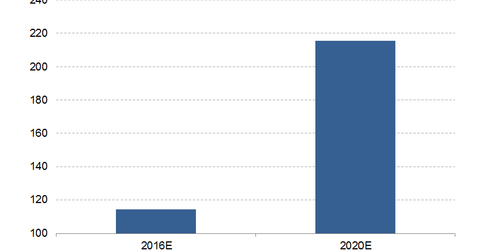 Behind the Alphabet–Snapchat Cloud Deal
By Neha Gupta

Updated
Snapchat paying $2 billion for Google Cloud
Snapchat disclosed in its IPO (initial public offering) filing that it has a signed deal to use Alphabet's (GOOGL) Google Cloud for five years. That's a boost to Alphabet's cloud business and a setback for cloud computing leaders Amazon (AMZN) and Microsoft (MSFT).
The filing notes that Snap, which owns mobile messaging app Snapchat, would pay $400 million per year to Google Cloud, bringing the cost of using the cloud for five years to $2 billion. Gartner estimates that $216 billion would be spent on public cloud services in 2020, up from $114 billion in 2016.
Article continues below advertisement
Google Cloud may be bigger than it seems
Alphabet (GOOGL) declined to disclose its cloud relationship with Snap when it recently reported its 4Q16 earnings. However, Snap's disclosure suggests that Alphabet is quietly gaining significant ground in the cloud space and that Google Cloud could be bigger than it seems.
Alphabet steals portion of AWS business
Since hiring VMware's (VMW) co-founder, Diane Greene, to run its Cloud Computing business, Alphabet has become more aggressive in pursuing cloud deals with its enterprise customers. Business Insider reported last year that under Greene, Google Cloud managed to steal a share of Apple's (AAPL) cloud operation from AWS (Amazon Web Services).
Support for Windows on Google Cloud
In a move that could also shake Microsoft's Azure cloud, Alphabet recently announced extensions that simplify running Windows software on its cloud platform. The move signals a desire by Alphabet to entice Microsoft customers who would naturally choose Azure to use its cloud service.
Cloud computing is one of Alphabet's nonadvertising businesses. Advertising comprised 85.9% of Alphabet's total revenues in 4Q16, down from 89.4% in 4Q15.