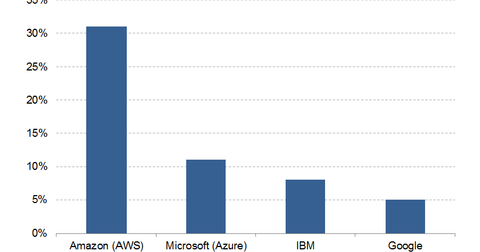 Where Does Alphabet Stand in the Cloud?
By Neha Gupta

Feb. 15 2017, Updated 9:08 a.m. ET
Efforts to exit the underdog club
Alphabet (GOOGL) has long been viewed as a cloud computing underdog alongside Oracle (ORCL) and International Business Machines (IBM). Let's see if anything has changed The chart below shows the leading cloud vendors by market share, as estimated by Synergy Research Group.
Although Alphabet still declines to break out its Google Cloud revenues, the company hinted in its 4Q16 earnings report that it's rapidly gaining ground in the cloud space. The tech giant's nonadvertising revenues come from sources such as cloud, app, and hardware sales. These revenues increased 62% YoY (year-over-year) to $3.4 billion in 4Q16, a record for the segment.
Article continues below advertisement
Giving Windows users a taste of Google Cloud
In Alphabet's nonadvertising revenue pursuit, cloud computing is at the center of the game. In 2016, Alphabet was reported to have persuaded Apple (AAPL) to move a portion of its cloud business from Amazon's (AMZN) cloud, Amazon Web Services (or AWS), to Google Cloud, according to Fast Company.
In its latest attempt to shake up cloud leaders, Alphabet is setting its sights on Microsoft (MSFT), where it has announced new products that expand the ability for IT professionals to run Windows software on its cloud environment. The move appears to be aimed at familiarizing Microsoft customers with Google Cloud before Alphabet can begin converting them.
By allowing Windows products to run on its cloud, Alphabet could have a better chance of triggering defections from Azure, thus increasing its market share.
Oracle doubles AWS fees
Oracle seems to be using a similar strategy. After allowing IT pros to run its software on AWS, the company recently moved to double its licensing fees for doing that. The doubling of fees to run Oracle on AWS seems to be aimed at making Amazon's cloud look expensive and less attractive for companies seeking to pare their costs.