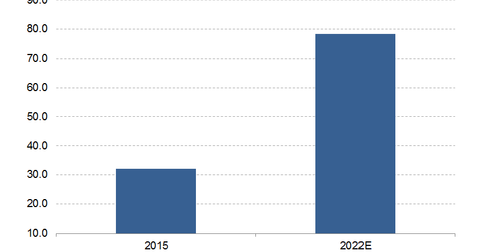 How Alphabet Could Beat Amazon in the Home Automation Space
By Neha Gupta

Updated
Alphabet brings back AI expert
Alphabet (GOOGL) didn't explain in much detail why it decided to rehire artificial intelligence (or AI) and robotics specialist Yoky Matsuoka. Matsuoka cofounded Google X but left to work for Apple (AAPL). She is returning to Alphabet as the chief technology officer of Nest, Alphabet's smart home unit.
Matsuoka's return could give a significant boost to Google Home, Alphabet's home automation hub that competes with Echo by Amazon (AMZN). Nest has only begun to integrate Google Assistant into its products so that they can be operated via Google Home. With Matsuoka's AI expertise, the integration could be faster and better, possibly expanding the application of Google Home.
Article continues below advertisement
Riding on Nest's rails
Nest's products include a smart thermostat and smoke detector that it sells domestically and abroad. Nest recently announced its expansion into four European countries, including Germany and Italy. According to the head of Nest Europe, Lionel Paillet, Nest's business is growing rapidly at an annual rate of 50%.
Integrating Google Assistant into Nest products would expand the market for Google Home, as existing Nest product owners could easily control their smart appliances. Google Home supports voice control of connected devices.
By riding on Nest's rails, which extend overseas, Google Home could give Echo a serious run for its money in the home automation systems market.
Efforts to diversify income sources
As Alphabet faces growing competition from Facebook (FB), Twitter (TWTR), Microsoft's (MSFT) LinkedIn, and Yelp (YELP) for online advertising spending, the company may need to venture into nonadvertising businesses to secure its future. This shift could explain the rationale behind projects such as Nest, Waymo, and Google Cloud.