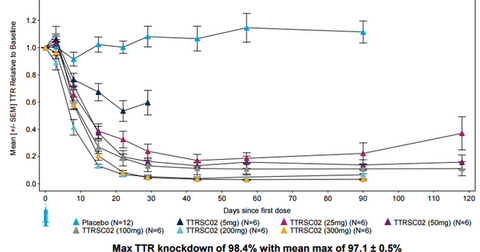 Alnylam Pharmaceuticals's Therapies to Treat hATTR Amyloidosis
By Margaret Patrick

Updated
Innovative Therapies
In addition to Patisiran, Alnylam Pharmaceuticals (ALNY) is also involved in researching ALN-TTRsc02 and ESC-GalNAc conjugate for hereditary TTR-mediated amyloidosis (or hATTR amyloidosis). The company is confident that ALN_TTRsc02 could be an effective therapy, which would need to be administered only once every quarter.
The reduced dosage frequency may enable the therapy to be preferred over Ionis Pharmaceuticals's (IONS) investigational drug, IONIS-TTRRx, which is administered on a weekly basis. The chart below shows the results from the phase 1 trial, which demonstrated the potency of ALN_TTRsc02 compared to a placebo in TTR knockdown.
If ALN_TTRsc02 can report positive results from its later-stage clinical trials, it may have a favorable impact on Alnylam Pharmaceuticals (ALNY) stock, as well as on the First Trust NYSE Arca Biotechnology Index ETF (FBT). Alnylam Pharmaceuticals makes up ~3.7% of FBT's total portfolio holdings.
If Patisiran and ALN_TTRsc02 are launched in the market, it could enable Alnylam Pharmaceuticals to become a major rare disease player similar to peers Alexion Pharmaceuticals (ALXN) and Vertex Pharmaceuticals (VRTX).
Article continues below advertisement
hATTR amyloidosis market opportunity
With no approved drug capable of halting the disease progression and with around 50,000 affected patients, hATTR amyloidosis has been an area with significant unmet demand. Diflunisal, a TTR stabilizer, is used off-label in the US market. However, the use of this treatment option is limited as there are significant cardiorenal side effects associated with diflunisal.
The European Medicines Agency (or EMA) has approved tafamidis for stage 1 hATTR amyloidosis. The drug is also seen to have favorable impact on patients with V30M gene mutations. However, this drug has been shown to have very limited impact on slowing or halting the progression of the disease. This situation offers a unique growth opportunity for Alnylam Pharmaceuticals in the hATTR amyloidosis space.