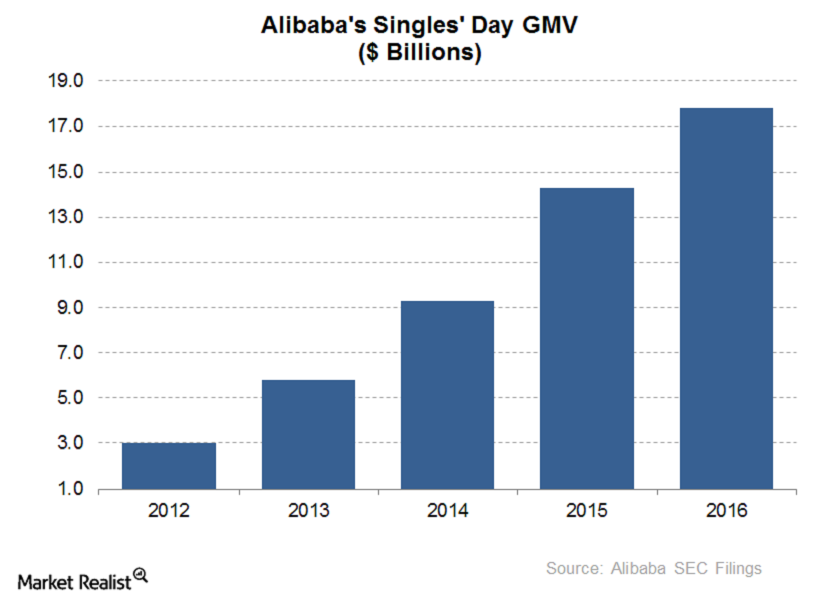 Alibaba's Ma-Trump Meeting: More Than Meets the Eye?
By Ruchi Gupta

Dec. 4 2020, Updated 10:51 a.m. ET
Ma could be lobbying for Alibaba in the US
Could there be more than meets the eye in the meeting between Alibaba (BABA) founder Jack Ma and Donald Trump earlier this month? The meeting has come into the sharp focus of investors and analysts, given its timing less than a month after a US trade advisory accused Alibaba of hurting US (SPY) companies by failing to remove counterfeit goods from its online marketplaces. Some saw Ma's meeting with Trump as a lobbying move.
Article continues below advertisement
Besides being listed by the US among notorious market for fakes, Alibaba is also under scrutiny by the SEC (Securities and Exchange Commission) over its accounting practices, especially its Singles' Day sales claims. Alibaba last year reported record sales of $17.8 billion on Singles' Day, China's (FXI) (MCHI) largest annual shopping bonanza.
Improving Alibaba's image in the US
Although Ma insisted that he and Trump discussed creating more jobs in the US, the timing of the meeting when Alibaba has multiple issues to sort out with the US appeared to hint that the meeting was aimed at trying to make nice with the new White House administration.
According to a Wall Street Journal report, Trump's nominee to head the SEC (Securities and Exchange Commission), Jay Clayton, was one of the Wall Street lawyers who worked on Alibaba's IPO (initial public offering) in the US in 2014. The IPO netted $25 billion, making it one of the largest US IPOs in recent memory. Perhaps Alibaba is hoping to rely on people like Clayton as point men in the Trump administration to improve its image in the US.
Alibaba sees the US as crucial to its efforts to foster cross-border trade on its marketplaces. Although Alibaba dominates China's e-commerce market, it faces stiff competition from JD.com (JD) in the domestic market, creating the need to pursue new markets outside China. But expanding abroad also exposes Alibaba to competition from eBay (EBAY) and Amazon.com (AMZN).