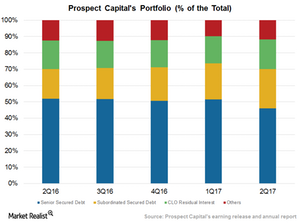 A Look at Prospect's Net Exits and Focus on Retail Lending
By Robert Karr

Updated
Exits higher than origination
In fiscal 2Q17, Prospect Capital (PSEC) made portfolio investments of $470 million, which is a substantial rise over the $347 million invested in fiscal 1Q17. These funds were deployed in new and multiple follow-on investments. The company saw higher net exits than it did in the previous quarter, in line with its trend over the past year. The industry has witnessed higher competition for high-quality paper and offerings, reflected in lower origination across the industry.
In fiscal 2Q17, Prospect invested a total of $470 million. Here's how its investments break down:
third-party-sponsored deals: 15%
syndicated debt: 54%
online lending: 1%
structured credit: 7%
real estate: 3%
aircraft leasing: 4%
operating buyouts: 2%
Article continues below advertisement
Prospect's exits in the form of repayments, sales, and scheduled amortization payments stood at $645 million in fiscal 1Q17. The company's net exits totaled $175.5 million. As of December 31, 2016, Prospect Capital's control investments at fair value made up 31.5% of its total portfolio, compared with 30.6% in the previous quarter. The year-over-year revenue growth of Prospect's peers is as follows:
Together, these companies make up 1.5% of the S&P 500 SPDR ETF (SPX) (SPY).
Consumer credit
Prospect is focusing on super prime, near-prime consumers, and small business borrowers through its online business to garner higher yields. The company is generating origination through multiple strategies in a bid to get higher margins. Its major strategies include non-controlled agented and syndicated lending, structured credit investments, real estate investments, sponsored and non-sponsored transactions, control investments, and online lending. It saw origination through all of these strategies during fiscal 2Q17. In the next part, we'll examine Prospect Capital's focus on real estate and online lending.