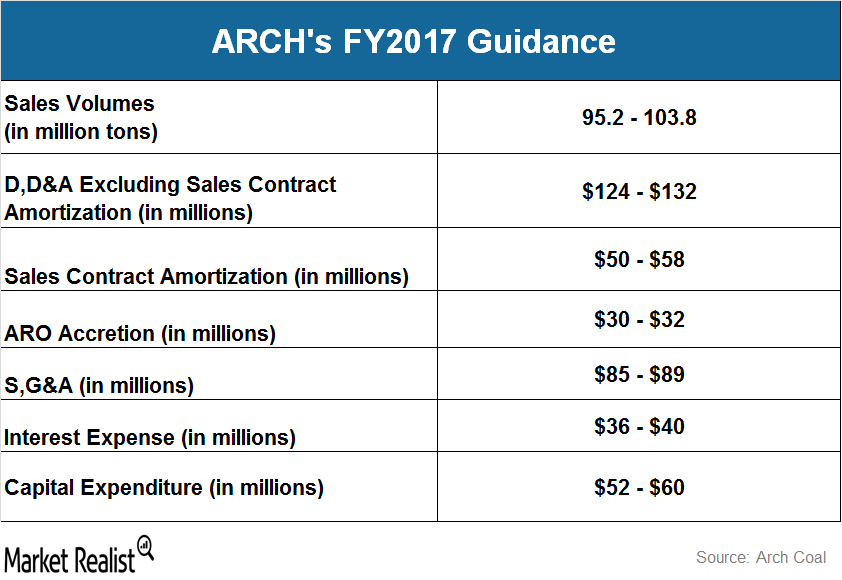 A Closer Look at Arch Coal's Financial Position and 2017 Guidance
Financial position
As a result of its restructuring, Arch Coal (ARCH) eliminated about $4.8 billion in debt and reduced its annual interest expenses by $330 million. Moving ahead, the company expects its annual interest expenses in 2017 to range from $36 million–$40 million.
At the end of 4Q16, the company had ~$363 million in total debt on its books. A majority of this debt is due to mature in 2021. The company's cash and short-term investment balance stood at ~$393 million.
Article continues below advertisement
Arch Coal's 2017 guidance
For 2017, Arch Coal estimates its total sales volume to range from 95.2 million–103.8 million tons. Out of this sales volume, the company has established sales targets between 7.2 million–7.8 million tons of metallurgical coal, which includes PCI coal (KOL), and between 88 million–96 million tons of thermal coal.
At the midpoint of its guidance level, Arch Coal is nearly 75 percent committed on coking coal sales for the full year, with nearly 35% of that committed volume exposed to index and other pricing mechanisms. At the midpoint of its guidance, Arch's thermal sales are nearly 85% committed for the full year.
ARCH expects its D, D&A (depreciation, depletion, and amortization) excluding sales contract amortization to range from $124 million–$132 million. Its sales contract amortization is expected to range from $50 million–$58 million.
For 2017, the company has a capital expenditure guidance of $52 million–$60 million, which includes costs that are related to some land and reserve acquisitions in Colorado and West Virginia.
Outlook
Arch Coal's (ARCH) 4Q16 earnings were driven by a strong rebound in metallurgical coal prices. Moving ahead, the company expects metallurgical prices to remain well above the levels that prevailed during the first half of 2016. Also, the company anticipates improving conditions in the US thermal markets.
In the short term, domestic and seaborne coal prices and natural gas prices should determine ARCH's bottom line. In the long term, the fate of the Clean Power Plan and other environment regulations under President Donald Trump's administration could determine the future of Arch Coal and other pure-play coal miners such as Cloud Peak Energy (CLD), Peabody Energy (BTUUQ), and Alliance Resource Partners (ARLP).