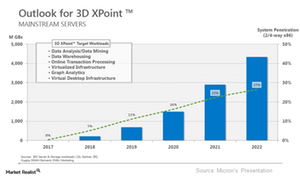 Who Will Win the 3D XPoint Race: Intel or Micron?
By Puja Tayal

Updated
Micron's technology innovation
In the previous part of the series, we learned that 2017 will be an important year for Micron Technology (MU) as it benefits from rising memory prices. It'll also be important for Intel (INTC) and SK Hynix as they bring their 3D NAND products to the market.
This scenario is unlikely to last for a long time, and Micron likely knows this. Hence, the company is developing SSD (solid-state drives) based on its revolutionary memory technology, 3D XPoint.
Article continues below advertisement
What's special about 3D XPoint?
In July 2015, Micron and Intel jointly developed 3D XPoint technology. The challenge was to develop products that could make this technology usable in different applications. Hence, the two companies started developing 3D XPoint–based products separately. Micron is developing these products under the QuantX brand, and Intel is developing them under the Optane brand.
3D XPoint technology is claimed to be 1000x faster than NAND technology and as durable as DRAM (dynamic random-access memory). Because it's a new technology, it remains to be seen whether it will be successful in the market.
When will 3D XPoint come to the market?
Micron expects to launch an SSD as the first product under its QuantX brand in 2H17. The company doesn't expect its 3D XPoint revenue to grow sufficiently enough, however, to be tagged under a separate segment in 2017. It expects this technology to start contributing significantly toward its revenue by 2020.
On the other hand, Intel has delayed the launch of its 3D XPoint–based Optane SSDs by almost two years. Intel previously stated that its future Xeon processor would support 3D XPoint memory modules. This announcement indicated that its upcoming Purley server platform, powered by Skylake-EP and due for launch in 1H17, was the one that would likely support 3D XPoint.
However, on its 3Q16 earnings call, Intel's CEO, Brian Krzanich, said, "There will be a second generation of Purley that includes 3D XPoint." The second generation Purley platform is the Cannonlake-EP, which is expected to launch in 4Q18 or 1H19.
If Micron succeeds in getting its QuantX SSD right, it will have an advantage over Intel. The first signs of 3D XPoint's future growth prospects should be visible by the end of 2017.
Early adopters of 3D XPoint
Among the early adopters of 3D XPoint technology are Apple (AAPL) in the mobile environment and IBM (IBM) in the data center environment.
While technology innovations hold strong growth potential for semiconductor companies, they're time-consuming and run the risk of product failure. An easier growth path is mergers and acquisitions, and we'll look into this next.