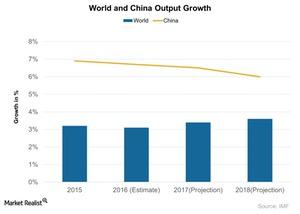 Will Slowdown in China Keep Affecting Global Growth?
By Mary Sadler

Jan. 31 2017, Updated 7:41 a.m. ET
China's growth and macroeconomic indicators
According to Gorman, China's transition and trade war with the US are points of concern. But he is highly optimistic about this economy (SSE) due to its sheer size. China is the second-largest economy after the US at about $10 trillion–$11 trillion. Regulators in China are opening up the economy and the company needs to tap the potential, according to Gorman.
Article continues below advertisement
Economic changes are affecting China's growth
China's GDP rose 6.7% year-over-year in the fourth quarter, boosted by government stimulus measures. As a result, some economic (NGCAX) (CHNAX) metrics showed improvement in 2016:
Manufacturing activity rose to a two-year high in November 2016. The Caixin manufacturing purchasing managers' index (or PMI) in China rose to 51.9 in December 2016 as compared to 50.9 in November.
Industrial output remained steady, and real estate data showed substantial improvement. Industrial production rose 6% year-over-year in December 2016 as compared to a 6.2% increase in the previous month.
Imports including commodities like iron ore and coal were near monthly records. Imports rose 3.1% in December, beating estimates of 2.7%.
China's GDP is expected to grow at 6.7%, according to the International Monetary Fund's latest report. The International Monetary Fund predicts the global growth rate for 2016 at 3.1%, which would include China's contribution of about 39%.
According to the report, the US is on a stable recovery path and is expected to grow 1.6% in 2016. China is a major contributor and driver of global growth. The slowdown in China will have a major effect on global growth considering its size. Also, the structural changes with the shift from a manufacturing and exporting hub to services and household consumption will have both positive and adverse effects (NTES) (BIDU) (BABA) (TSM).
Let's look at Gorman's assessment of other advanced economies including the EU and the UK in the next part of the series.