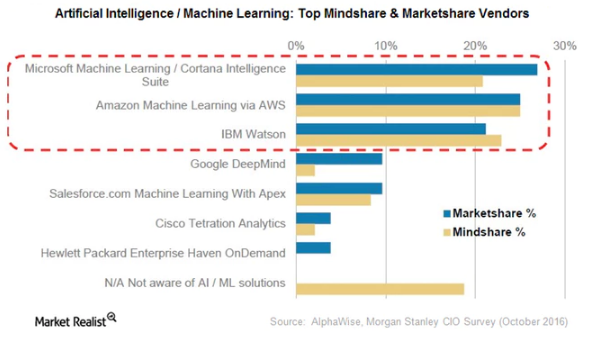 Will IBM Watson's Foray into Financial Services Succeed in 2017?
By Anne Shields

Nov. 20 2020, Updated 4:00 p.m. ET
IBM's acquisitions to boost Watson
Since its inception, IBM (IBM) has been betting heavily on Watson, its cognitive computing platform, to steer the company toward much-needed growth. As expected, Watson was IBM's highlight in 2016 and is expected to be in 2017 as well.
Considering IBM's acquisitions to equip Watson in the healthcare space, namely those of Phytel, Explorys, Merge Healthcare, and Truven Health, it looks like its core focus is to get its hands on data. Merge Healthcare gave IBM access to billions of images, which it reused to train and enhance Watson. Truven Health provided payer data information. Explorys and Phytel provided care management, patient management data, and clinical data to IBM.
Article continues below advertisement
All of these acquisitions enabled Watson to dive into data and provide insights that can then be used in different sectors. IBM is expanding Watson's expertise from healthcare to the blockchain, and banking to financial services. It has already invested billions of dollars in machine learning and AI (artificial intelligence) through partnerships and acquisitions to develop its Watson platform.
Morgan Stanley (MS) views data as the "holy grail of AI." LinkedIn's (LNKD) acquisition provided Microsoft with access to large data sets, which are essential to the development of AI. Morgan Stanley considers Microsoft (MSFT), Amazon (AMZN), and IBM as early but "underappreciated" leaders in the AI space, with market shares between 20% and 30%.
IBM expands Watson's reach regulation and compliance space
In October 2016, IBM acquired Promontory Financial Group and integrated it with Watson to create Watson Financial Services. Promontory Financial Group is a consulting company with expertise in financial regulation and compliance.
Its recent acquisition of Promontory will expand Watson's reach into the financial regulation and compliance space, which is estimated to be worth $270 billion. If IBM manages to enable customers to lower their regulatory compliance costs considerably, long-term growth prospects are good.