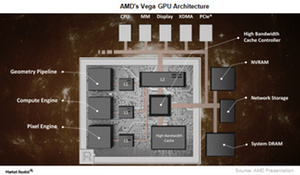 Will HBM2 Memory Be a Game Changer for AMD's Vega GPU?
By Puja Tayal

Updated
What differentiates Vega from Polaris and Pascal?
Advanced Micro Devices' (AMD) new Vega 10 GPU (graphics processing unit) competes head-to-head with NVIDIA's (NVDA) GTX 1080 and even exceeds the latter in frames per second. Like AMD's Polaris, Vega 10 is built on Samsung (SSNLF) and Global Foundries' 14 nm (nanometer) node. Still, it delivers a far better performance than Polaris or NVIDIA's Pascal because of its HBM2 (high-bandwidth memory).
Pascal and Polaris feature GDDR5 (double data rate type five synchronous graphics random-access memory). HBM2 has eight times more capacity than GDDR5 and consumes 50% less space than GDDR5.
Article continues below advertisement
HBM2 memory
The Vega 10 GPU is built on a die size of over 500mm2. It features an HB (high-bandwidth) cache and controller along with two 8GB (gigabyte) HBM2 stacks, representing up to 16GB of HBM2. This enables GPUs to transfer data at a rate of up to 2GT (giga-transfers) per second and as high as 8GB of RAM (random-access memory).
The HB cache and controller make Vega's memory architecture highly scalable.
High-bandwidth cache and controller
In Vega, AMD has replaced the traditional frame buffer with an HB cache and added an HB cache controller, which provides fine-grained control over data while supporting 512 terabytes of virtual address space. This setup creates a heterogeneous memory system in which the GPU can simultaneously control onboard RAM and other memory sources.
Vega can process data at twice the speed of its predecessor Polaris using its Intelligent Workgroup Distributor, which helps it to balance task loads from the start.
Article continues below advertisement
Draw stream binning rasterizer 
Vega's pixel engine features a draw stream binning rasterizer, which works with the HB cache controller to process a scene more efficiently, improving the overall performance of the GPU while reducing power consumption. The rasterizer identifies overlapping pixels that wouldn't be visible to the user and discards them, reducing the rendering workload and speeding up the process.
These features make Vega's architecture ideal for the new Radeon Instinct lineup for data centers and the Radeon Pro SSG card (solid-state graphics), which grafts high-capacity NAND memory directly to the GPU.
Pricing of Vega GPU
AMD plans to launch Vega 10 in 1H17. If AMD manages to offer equal or better performance compared to NVIDIA at a lower price, it could stand to win a significant share of the GPU market.
Moreover, AMD is diversifying its GPU into data center applications with its Radeon Instinct Initiative. We'll look more into this in the next part of the series.