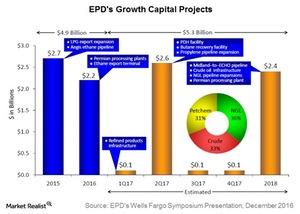 What Could Drive Enterprise Products Partners's Growth?
EPD's capital projects
Enterprise Products Partners (EPD) announced the beginning of operations at its Morgan's Point, Texas, ethane export terminal in September 2016. The company started operations at a new natural gas processing plant in Texas in August 2016. The plant is jointly developed by EPD and is an affiliate of Occidental Petroleum Corporation (OXY).
EPD's key projects expected to be in service in 2017 and 2018 include a PDH (propane dehydrogenation) facility, Midland to ECHO crude oil pipeline, and crude oil and refined products infrastructure. EPD has $5.3 billion of projects currently under construction that are expected to be operational by the end of 2018.
Article continues below advertisement