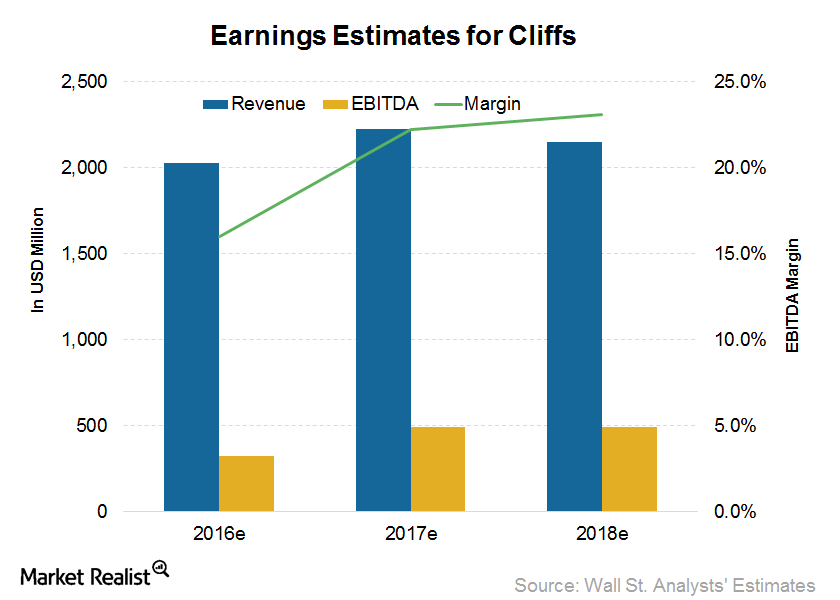 Inside Cliff's Earnings in 2017: What Will Drive Analysts' Earnings Estimates?
By Anuradha Garg

Nov. 20 2020, Updated 4:17 p.m. ET
Earnings drivers
The factors affecting Cliffs Natural Resources (CLF) are quite different than those affecting global iron ore players Rio Tinto (RIO) and BHP Billiton (BHP). Only a small part of its revenues come from its Asia-Pacific division.
Most of Cliffs' revenue is tied to the domestic US (QQQ) steel market. US steel prices and order books for customers are the major revenue drivers for Cliffs' US division.
Article continues below advertisement
Analysts' revenue projections
Analysts' revenue projections are proxies for volumes sold multiplied by prices received for mining companies. Wall Street analysts covering Cliffs Natural Resources project sales of $2.0 billion in 2016.
In the past year, analysts have raised their revenue projections from ~$1.8 billion to ~$2.0 billion for the year. This revenue projection implies a rise of 3.0% YoY (year-over-year). Cliffs' actual revenue fell 41.0% YoY in 2015.
Cliffs has also upgraded its sales and production guidances. Its revenue projection for 2017 implies a rise of 5.5% YoY. After Donald Trump's election win, analysts have increased their estimates for steel prices going forward.
EBITDA estimates
Analysts have consistently revised their EBITDA (earnings before interest, tax, depreciation, and amortization) projections upward for Cliffs. In the past year, EBITDA estimates have seen an upward revision of 15%. This comes mainly on the back of higher projected steel prices and lower costs. Cliff's EBITDA estimate for 2016 now stands at $324 million, implying a margin of 16.0%. The margin estimate for 2017, however, is significantly higher at 22.2%.
Trump's election win and his take on protectionism and infrastructure spending may have encouraged some analysts to turn more optimistic. Cliffs' better-than-expected cost-cutting efforts may also have encouraged analysts to increase their EBITDA estimates. Investors should keep an eye on the steel prices in the domestic US steel market to get a sense of Cliffs' future earnings.
Any weakness in steel prices could lead to a downward revision in earnings estimates for US steel companies such as Cliffs, U.S. Steel (X), AK Steel (AKS), and ArcelorMittal (MT).