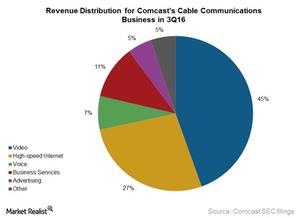 Will Comcast Launch a Streaming Service Nationwide?
By Shirley Pelts

Updated
Comcast's take on streaming services
As Comcast (CMCSA) continues to face increasing competition from online streaming services, it remains to be seen whether the company will launch a streaming service on a national basis. The company was asked about this at the 2016 Wells Fargo Technology, Media & Telecom conference.
In response, the company stated that launching an over-the-top (or OTT) service isn't easy. It said that it had studied the business models of such streaming services, but it didn't express faith in their business models.
Article continues below advertisement
The company also pointed out that it's looking at offering multiple products in a bundle to its customers, as it believes these will result in higher returns. As a part of this strategy, Comcast said that it would be continuing with its rollout of the X1 set-top box. As for its high-speed Internet business, it continues to add 1 million high-speed Internet subscribers each year.
The company is also looking at the home security business as a larger part of its business strategy. According to a FierceCable report from earlier in January, Comcast is also likely to license its home automation system to Charter Communications (CHTR) and Cox after its acquisition of Icontrol Networks in 2016.
Xfinity Home
Comcast's Xfinity Home is a security service aimed at residential customers. Comcast's Xfinity Home is a part of Comcast's Other revenue segment, and it was launched about four years ago. Last year, Comcast stated that its home security business had surpassed 500,000 subscribers and that it expected this business to grow further.
Comcast stated on its 3Q16 earnings call that ~55% of Xfinity Home's customers were also first-time Comcast customers. As a result, Comcast views its Xfinity Home business as a way to attract new customers and build new customer relationships.
As the graph above indicates, Comcast's Xfinity Home security service's revenue is part of Comcast's Other revenue segment, which made up 5% of Comcast's total revenue of $12.6 billion in 3Q16.