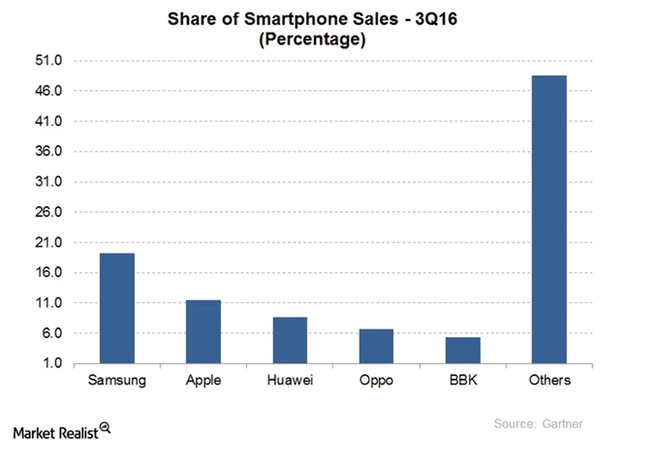 Will Apple's iPhone 8 Drive Revenue in 2017?
Are customers waiting for the iPhone 8?
This year will be the tenth year since the launch of the first iPhone. Apple most likely has a few surprises up its sleeve. Since 2016 will be Apple's first year of YoY (year-over-year) shipment declines, the company will have to contend with competition from Google's (GOOG) (GOOGL) Pixel and Samsung's (SSNLF) flagship Galaxy Note product line.
Apple is reportedly analyzing nearly ten prototypes for next year's iPhone, which is likely to be called the iPhone 8.
Article continues below advertisement
iPhone 7 released in September 2016
Apple (AAPL) released the iPhone 7, iPhone 7 Plus, and the Apple Watch Series 2 at its annual event in September 2016. Apple replaced the iPhone's 3.5-mm headphone jack with the wireless AirPod, encouraging consumers to use its new Bluetooth EarPods. Apple also included an adaptor with the iPhone 7, allowing users to connect their old EarPods to the integrated Lightning port.
Apple also stated that it will not announce the launch sales of the new iPhone 7, as it expects demand to exceed supply. Apple has traditionally announced the number of iPhones sold in the first weekend after they were launched.
iPhone problems in China
Apple is under pressure, as its shareholders want to see rapid revenue growth and diversification. However, a recent iPhone consumer complaint in China could slow Apple's efforts to grow and diversify its revenue streams.
On December 2, 2016, the Shanghai Consumer Council issued a report about eight Apple iPhone 6 devices catching fire. The fire complaint came on the heels of an earlier reported problem of the iPhone 6 unexpectedly shutting down even with the battery still halfway full.
Apple has responded to these complaints. With respect to the spontaneous battery fires, the company stated that forensic analysis of the devices showed the fires followed physical damage to the iPhones.
DigiTimes stated that Apple is scaling back orders for the iPhone since sales for its recently launched iPhone 7 and iPhone 7S have been falling. According to DigiTimes, "The initial shipment momentum of the iPhone 7 was in part driven by strong demand for the jet black iPhone 7 models and in part by the mishap brought upon by Samsung Galaxy Note 7."
DigiTimes further stated that demand for the iPhone in China (FXI) and other markets has fallen significantly. Supply chain manufacturers expect shipments in the first six months of 2017 to fall 5.0 million units compared to the last six months of 2016.