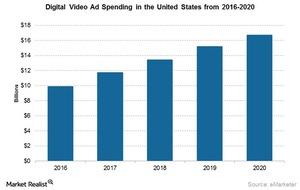 Will 2017 Usher in a New Era for Advertising in the Media Industry?
By Shirley Pelts

Jan. 31 2017, Updated 7:40 a.m. ET
Change in traditional advertising models
As the way content is being consumed online continues to change, traditional advertising business models are also changing. Viewers watching content on linear television networks or over-the-top services are preferring to view fewer ads or opting for ad-free services. As a result, media companies are either reducing ad loads on linear television networks or offering targeted advertising products to advertisers.
Alphabet's (GOOG) YouTube platform has become the most-sought-after video platform. The company continues to innovate by bringing new ad formats and improved ad measurement tools for YouTube.
Article continues below advertisement
Alphabet also stated at the company's fiscal 4Q16 earnings call that its revenues on YouTube in fiscal 4Q16 were primarily driven by video advertising through TrueView and DoubleClick Bid Manager. TrueView ads are the in-stream ads wherein advertisers' video ads play automatically before the start of a YouTube video. In these ads, the viewers can skip an ad after viewing it for five seconds. If a viewer skips an ad before viewing it for 30 seconds or before the end of the ad, the advertisers don't have to pay anything.
Other companies offering targeted advertising
Other companies that offer targeted advertising include Time Warner (TWX) and Facebook (FB). Time Warner (TWX) is increasingly investing in advertising technology to increase user engagement for its advertisers. The company's new products regarding data analytics include Targeting Now, Audience Now, ROI Now, and Provable ROI. The company stores all consumer information on its Turner Data Cloud and through data integration with Oracle (ORCL).
Facebook has been focusing on ad technology to improve the relevancy of ads. It has improved its ad technology to understand users' interests, which is a critical component of providing relevant ads.
Users, advertisers, and Internet companies all benefit from relevant ads. Providing relevant ads to users helps them have a better experience and also gives advertisers a higher return on investment because users are more likely to click on ads.
According to a report from eMarketer and as the chart above shows, video ad spending is expected to almost double from around $10 billion in 2016 to around $17 billion in 2020.