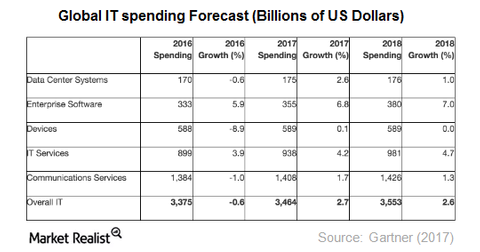 Why the VMware-Amazon Deal Is Expected to Be a Game Changer
By Anne Shields

Jan. 23 2017, Published 11:02 a.m. ET
VMware seeks a position in the public cloud space
Earlier, we discussed how VMware's (VMW) improved performance could make it one of the top software companies in 2017. In late 2016, VMware announced a partnership with Amazon (AMZN). 
In the past, we said that such a partnership could provide a boost to VMware stock, as Amazon is the undisputed leader in the cloud space. The partnership would help both companies run their own data centers and improve their access to the public cloud.
According to investors.com, Jason Ader, an analyst at William Blair, believes a VMware-Amazon partnership would be "game changer."
Article continues below advertisement
VMware's expertise lies in private cloud services, while Amazon's AWS (Amazon Web Services) is the clear leader in terms of public cloud services. Ader feels that a partnership between the two "makes the idea of hybrid clouds more viable and appealing, as customers will have a path to the cloud without having to re-architect their applications."
By partnering with Amazon, VMware is aiming for the public cloud space, because Amazon leads this space. Companies prefer public cloud platforms such as Google (GOOG), as most of its services available in the public cloud, such as applications and storage, are either free or available through a pay-per-use model.
Cloud-to-drive IT spending
In late 2016, IDC (International Data Corporation) said that it expected global spending on public cloud IT (information technology) infrastructure to rise at a 15% compound annual growth rate (or CAGR), and spending on non-cloud IT infrastructure was expected to fall at a 1.8% CAGR from 2015 to 2020.
According to a Gartner report published on January 12, 2017, global IT spending is projected to reach nearly $3.5 trillion in 2017. The confluence of cloud computing with emerging digital technologies such as AI (artificial intelligence) and blockchain will likely fuel this surge.
In the past, we've seen major acquisitions announced by Microsoft (MSFT), IBM (IBM), Oracle (ORCL), Google, and Salesforce.com (CRM) center around AI, ML (machine learning), and IoT (Internet of Things) technologies.