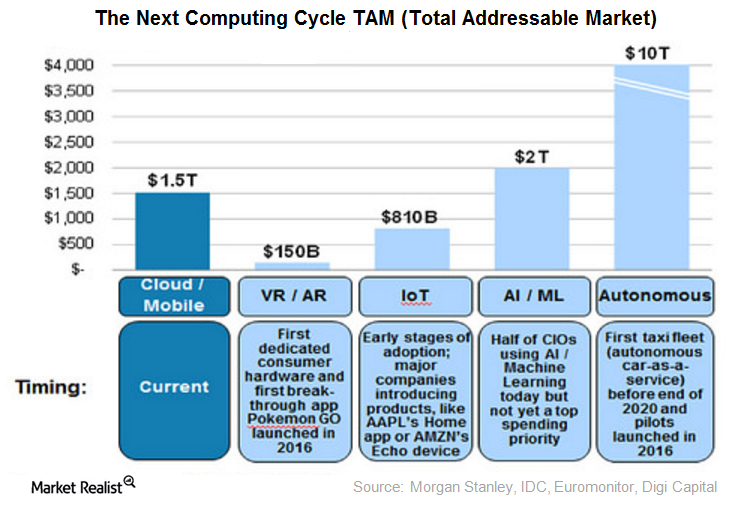 Why Microsoft Acquired Maluuba
By Anne Shields

Jan. 26 2017, Updated 7:38 a.m. ET
Maluuba is Microsoft's recent acquisition in AI space
Earlier in the series, we discussed Microsoft's recent acquisition of Simplygon in the AR space. To move ahead in the AI space, Microsoft (MSFT) announced that it plans to acquire Maluuba, an AI (artificial intelligence) startup. AI is an umbrella term that encompasses natural language processing, machine learning, and robotics. AI enables sensing, prediction, analysis, and solutions for various IT (information technology) issues.
Article continues below advertisement
Research and algorithm development for machine learning is Maluuba's strength. Founded in 2011, Maluuba employs natural language processing technology to enable machines to communicate interactively. CrunchBase shows that Maluuba has raised $12 million in funding to date. Microsoft has also committed to donating $6 million for AI research to the Université de Montréal and $1 million to McGill University in the next-five-year period, according to the Montreal Gazette.
Artificial intelligence and machine learning
AI (artificial intelligence) and ML (machine learning) are expected to drive the $2 trillion in spending during the next new computing cycle, whose TAM (total addressable market) is expected to encompass approximately $13 trillion, as the above chart shows.
Morgan Stanley (MS) analyst Katy Huberty believes that Microsoft (MSFT), Amazon (AMZN), and IBM (IBM) are early but "underappreciated" leaders in the AI space. As the above chart shows, these three companies' AI platforms' market shares range between 20% and 30%.
Citing Forrester's recent report, Forbes recently stated that businesses that use AI, big data, and IoT technologies to reveal new business insights "will steal $1.2 trillion per annum from their less informed peers by 2020." Moreover, across all businesses, AI will see an increase of more than 300% in investment between 2016 and 2017.
Prior to Maluuba, Microsoft made two acquisitions, Genee and SwiftKey, in the AI space. Thus, Microsoft is trying to improve its position in the AI space through acquisitions and investments in R&D.