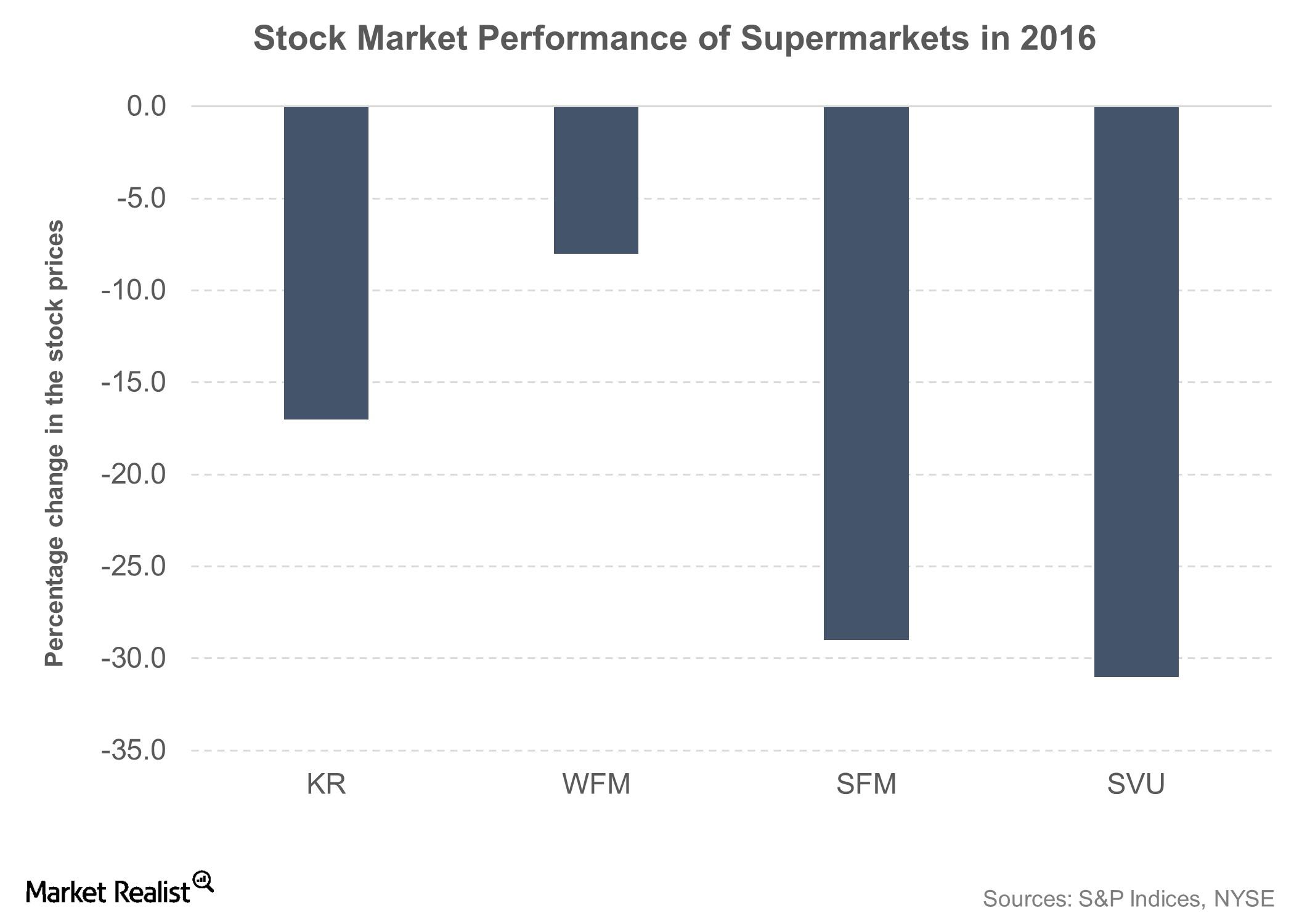 Why Deflation Could Hurt Supermarket Stocks in 2017
Evaluating the performance of supermarket stocks in 2016
The grocery and food retail sector remained under pressure through most of 2016 on concerns of persistent deflation and increasing competition. From supermarket giants like Kroger (KR) to value-oriented organic successes like Sprouts Farmers Market (SFM), all were severely thrashed in the stock market.
Kroger (KR), Whole Foods Market (WFM), Sprouts Farmers Market (SFM), and Supervalu (SVU) lost 17%, 29%, 8%, and 31% of their respective value in 2016.
Article continues below advertisement
Will the situation reverse anytime soon?
Analysts think not! Deflationary headwinds are likely to continue into 2017, and Wall Street recommends staying away from grocery stocks—at least in the near term. Kroger, Whole Foods, and Supervalu have already lost 3%, 0.8%, and 9.4% of their respective value in the first two weeks of 2017.
"The current food deflation cycle has lasted much longer than most anticipated, with the latest data point representing the worst reading," commented Rupesh Parikh, senior analyst at Oppenheimer.
He added, "Based on our work, we see the possibility of food deflation persisting well into next year, potentially through the middle of 2017. As a result, we continue to believe shorter-term investors should steer clear of grocery names."
In a recent research note by Wolfe Research, Kroger was among the six companies identified as a short pick for 2017. The research firm expects Kroger's stock price to drop in 2017. None of the food retailers were among the chosen long candidates for the year.
Investors looking for exposure to food retail stocks through ETFs can consider the SPDR S&P Retail ETF (XRT), which invests 6.7% of its portfolio in the food retail segment.
Read the next part to learn about Wall Street's view of individual companies