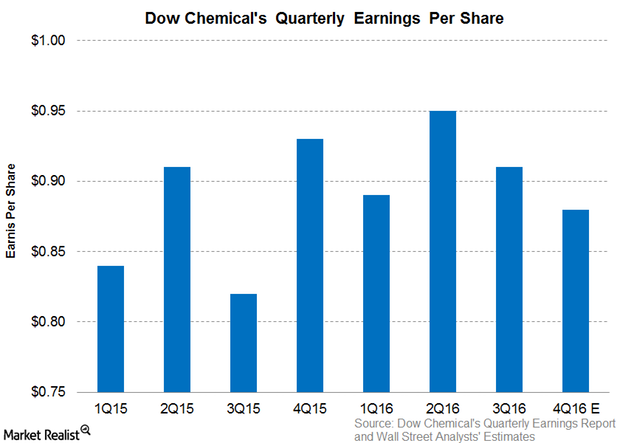 Why Analysts Expect Dow Chemicals's Operating EPS to Fall in 4Q16
Analysts' expectations of Dow Chemical's operating EPS
On January 17, 2017, Wall Street analysts expected Dow Chemical (DOW) to post operating EPS (earnings per share) of $0.88 in 4Q16, compared with $0.93 in 4Q15. This implies a 5.4% decrease in operating EPS on a YoY (year-over-year) basis.
In the first nine months of 2016, DOW posted operating EPS of $2.75, compared with $2.57 in the first nine months of 2015. This implies an increase in operating EPS of 7.0% for the first three quarters of 2016.
The expected decline in operating earnings per share could be driven by the higher depreciation and amortization expenses in 4Q16. Dow Chemical expects its depreciation and amortization expenses to be in the range of $750 million–$800 million in 4Q16 compared to $600 million in 4Q15.
As a percentage of sales, the expected depreciation and amortization expenses are expected to be 6% for 4Q16, while it was 5.3% of sales in 4Q15.
On the other hand, the company's productivity gains are expected to surpass the targeted $300 million for fiscal 2016. In the first nine months of 2016, DOW had achieved $254 million in savings.
DOW expects its interest expenses in 4Q16 to be in the range of $175 million–$225 million, which is well below the interest expense of $240 million recorded in 4Q15. All these factors could help boost DOW's EPS.
Article continues below advertisement
Share repurchases
Another major way that a company can increase its EPS is by reducing its outstanding shares. DOW resumed its share repurchase program in July 2016. DOW had stated that it would not implement any share buybacks until July 2016 after the merger with DuPont (DD) was announced.
At the end of 3Q16, DOW had purchased 7.8 million shares amounting to $416 million under its $9.5 billion share repurchase program.
Investors can indirectly hold Dow Chemical by investing in the Materials Select Sector SPDR ETF (XLB), which holds 11.5% of its portfolio in Dow Chemical. Other major holdings of this fund include Monsanto (MON) and Praxair (PX), which had weights of 8.4% and 5.9%, respectively, on January 17, 2017.
In the next part, we'll look into analysts' recommendations and target prices for Dow Chemical ahead of its 4Q16 earnings release.