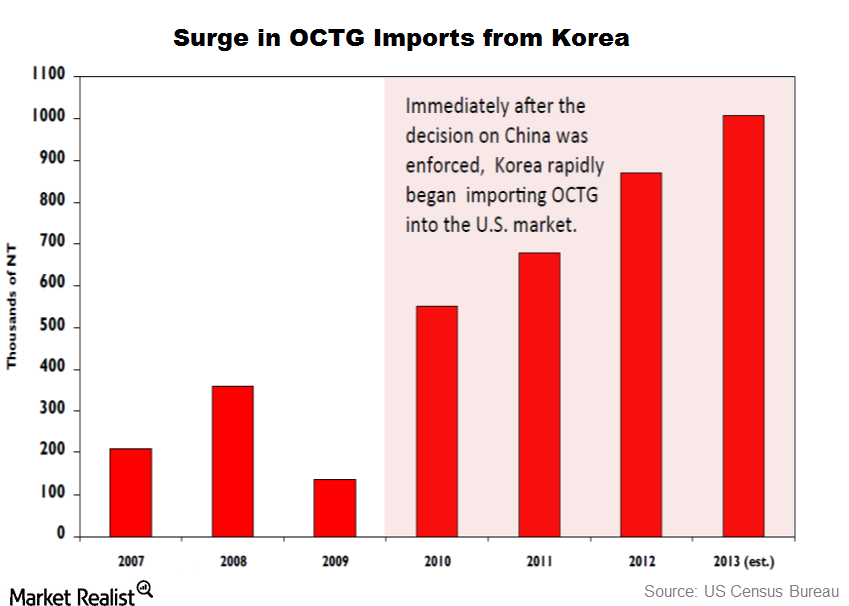 Why a 45% Tax on China Wouldn't Mean Much for US Steel
By Mohit Oberoi, CFA

Jan. 18 2017, Updated 9:07 a.m. ET
Tax on China
During his election campaign, Donald Trump vowed to impose a 45% tax on imports from China. If it were to see the light of day, the proposed tax could benefit the US manufacturing sector, but there might not be much impact on the steel industry. Let's see why.
Last year, the United States (SPY) slapped antidumping duties on flat rolled steel imports from China. The US market is now practically closed for Chinese producers, as strict duties are in place on most Chinese steel products. China accounts for only about 2% of US steel imports now. So, a tax on Chinese steel imports would not have much impact on US steelmakers like U.S. Steel (X), AK Steel (AKS), and Nucor (NUE).
Article continues below advertisement
Transshipments
Having said that, although we've seen a sharp decline in direct Chinese steel imports, there are allegations that China is transshipping its steel from other countries to evade duties against Chinese steel products. When Chinese OCTG (oil country tubular goods) products were slapped with trade duties in 2010, we saw a nearly instantaneous increase in imports from Korea. US steel companies allege that Chinese steel was routed through Korea after the trade duties were imposed against China.
Something similar seems to be happening now. We saw a steep increase in cold rolled and galvanized steel imports from Vietnam last year after duties were imposed on Chinese flat rolled steel products. Steel companies like U.S. Steel and ArcelorMittal (MT) allege that Chinese steel is being routed from Vietnam to evade the strict duties imposed on Chinese steel products. With direct Chinese steel imports under control now, steel companies could bank on the new administration to stem transshipments of Chinese steel products.
Another one of Trump's pre-election plans was to renegotiate NAFTA (North American Free Trade Agreement). In the next article, we'll analyze how the implementation of this plan could affect US steelmakers.