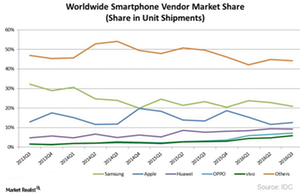 Who Is behind the Legal Attacks on Qualcomm?
By Puja Tayal

Dec. 4 2020, Updated 10:51 a.m. ET
Legal attacks on Qualcomm: No coincidence
In the previous part of this series, we saw that Qualcomm (QCOM) is surrounded by legal attacks from Korea, the United States, and Apple (AAPL). All lawsuits are aimed at the same concept of Qualcomm's patent licensing model, which has been in place for years. In our view, these lawsuits coming at the same time is no coincidence.
Qualcomm (QCOM) and some analysts believe that Apple is behind this legal attack, as the handset maker is a key example in all three lawsuits. Let's get to the root of this legal onslaught.
Article continues below advertisement
Apple to face penalty for second sourcing modems from Intel
According to the US FTC's (Federal Trade Commission) statement, Qualcomm signed an exclusivity deal with Apple when the latter launched its first CDMA[1. code division multiple access] iPhone in 2011. Under the terms of the deal, Qualcomm would offer billions of dollars in rebates to Apple if the latter sourced modems for its iPhones exclusively from the former.
This exclusivity deal went well until 2016, when Apple sourced around 50% of the modems for its iPhones from Intel (INTC). This breached the exclusivity deal, exposing Apple to large penalties in the form of lost rebate payments from Qualcomm. The exact amount of the rebates have not been disclosed.
This raises a question as to why Qualcomm entered into an exclusivity deal with Apple in the first place. Qualcomm realized that Apple is a large account and that any competitor that gets the contract would grab a strong market share. The first competitor that would benefit was Intel. Hence, becoming Apple's exclusive supplier in return for rebates prevented competition for Qualcomm.
Now that Apple has already started sourcing from Intel, the best way to break ties with Qualcomm without facing a penalty was expediting the FTC investigations and converting them into lawsuits.
Handset makers cut costs as smartphone sales growth slows
Another possible reason for all these lawsuits hitting Qualcomm now could be the slowdown in smartphone sales. IDC (International Data Corporation) stated that after enjoying double-digit sales for several years, smartphone sales growth has slowed to about 1%. The slowing sales are encouraging handset makers to cut costs.
Apple (AAPL) reported its first decline in iPhone sales in 1Q16. This encouraged the handset maker to launch the cheaper SE model, which negatively affected its margins. In a market where mid-range and low-end phones are becoming more popular than high-end phones, the only way to maintain high margins is by reducing costs. One way of reducing costs is by reducing the margins of its suppliers.
Next, we'll look at Apple's side of the argument.