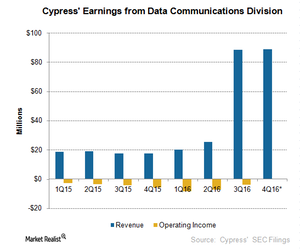 Where Does Data Communications Fit in Cypress 3.0 Business Model?
By Puja Tayal

Updated
Data Communications joins the missing pieces in Cypress's embedded solutions
In the previous part of the series, we looked at the memory and the brain of Cypress Semiconductor's (CY) complete embedded solution. The company's DCD (Data Communications Division) connects all these pieces.
The DCD offers USBs (universal serial buses) and cable controllers for all types of embedded systems and Broadcom's (AVGO) wireless connectivity solutions such as Wi-Fi, Bluetooth, BLE (Bluetooth low energy), and ZigBee products.
Article continues below advertisement
DCD revenue estimate
As seen from the above graph, the addition of Broadcom's wireless IoT (Internet of Things) business added $62.6 million to the DCD revenue, increasing its size by 250%. This increased DCD's contribution to the overall revenue from 5.6% in fiscal 2Q16 to 16.7% in fiscal 3Q16. The acquisition also increased the company's overall revenue by 16%. The division is expected to report revenue growth in fiscal 4Q16 driven by strong demand from the consumer segment.
In fiscal 3Q16, Cypress reported that it has secured strong design wins in the consumer space, especially in IP cameras. Design wins in the consumer segment don't take long to materialize. Thus, some design wins are likely to be reflected in fiscal 4Q16 sales. This would be supported by strong demand for Cypress's USB Type-C and USB 3.0 products.
Moreover, the IoT acquisition has increased Cypress's content in automotive from $95 to $120. However, this design win may take some time to materialize into sales.
Article continues below advertisement
DCD profit estimate
The DCD segment has a good gross margin, but it has been posting operating losses because the low revenue was unable to bear the high operating expense. As the DCD revenue rose, its operating loss narrowed to $3.9 million in fiscal 3Q16.
The DCD is expected to break even in fiscal 4Q16 as the higher revenues and strong profits of the IoT business absorb the high operating expenses. The division is expected to become profitable in fiscal 1Q17 as growth in the IoT market boosts DCD revenue.
Even Intel (INTC) is expanding its networking solutions as it looks to tap the embedded market. It recently unveiled its 5G modem to compete head-to-head with Qualcomm (QCOM) in the IoT space.
How will Cypress leverage Broadcom's IoT products?
Apart from selling Broadcom's IoT products, Cypress looks to leverage both the companies' products to develop a comprehensive IoT platform. Cypress is also looking to develop combinations of Wi-Fi and Bluetooth.
Next, we'll look at Cypress's product launches in the data communications segment.