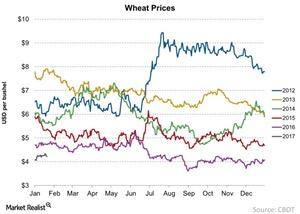 Why Wheat Prices Are Trading at a 5-Year Low
By Adam Jones

Nov. 20 2020, Updated 1:15 p.m. ET
Wheat ending stocks
In its January report, the USDA (United States Department of Agriculture) reported that the world's ending stock for wheat rose to 253 million metric tons from 252 million metric tons in December. This rise has primarily come from a decline in month-over-month production by about 1.4 million metric tons. Let's look at how this impacted wheat prices.
Article continues below advertisement
January prices
Given the increase in global stocks, wheat prices were broadly lower in January. Global wheat prices on January 20, 2017, were lower than they were on December 20, 2016. On a 30-day trailing basis, on January 20, corn prices were 2.1% lower, trading at $10.1 per bushel as compared to $10.3 per bushel in December 2016. The downward movement in wheat prices is consistent with an upward movement in global corn stocks, as we discussed above.
Why are prices lower?
Wheat inventory (or supply) levels have been significantly higher in 2016 than in 2015, so it isn't surprising to see that global wheat prices are lower this year. Farmers didn't purchase as much fertilizer due to falling farm incomes, and this has impacted fertilizer companies (MOO) like PotashCorp (POT), Terra Nitrogen (TNH), Israel Chemicals (ICL), and CVR Partners (UAN).
In June 2012, wheat was trading at an average of $6.50 per bushel. In June 2013, wheat prices rose by an average of 6% due to lower stock-to-use ratios during that month.
For an overview of the fertilizer industry, read Agricultural Fertilizer Industry: Your Comprehensive Overview.