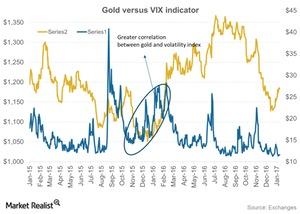 What's the Trump Impact on Precious Metals?
Lack of clarity
The recent weakness in the US dollar was one primary reason behind the recent rise of greenback-based precious metals. As Donald Trump provided minimal clarity on the direction his future economic policies, gold rose to its seven-week high on January 12.
Trump's lack of transparency during the first press briefing as the US president-elect apparently helped the haven appeal of the metals. Trump presided over a wide-ranging session that lasted longer than expected but contained no details on tax cuts and infrastructure spending.
Remember, investors are often known to jump to safety whenever the economic performance remains unclear. Gold and other precious metals are also known to perform better during rising uncertainty and volatility in the market.
Article continues below advertisement
Politics play gold, gold plays politics
To be sure, the overall scenario in US politics seems to be affecting gold. At least in the short run, precious metals are feeling the so-called Trump impact, just as Fed officials, particularly Fed Chair Janet Yellen, might also be taking a similar direction as precious metals.
Gold-based funds like the iShares Gold Trust (IAU) and SPDR Gold Shares (GLD) have risen 3% each since the beginning of the new year. Mining companies that have followed this trend include Barrick Gold (ABX), GoldCorp (GG), Yamana Gold (AUY), and Gold Fields (GFI), which have seen 30-day trailing rises of 7.8%, 8.5%, 9.3%, and 13.5%, respectively. Notably, these firms account for ~22% of the price changes in the Vaneck Vectors Gold Miners Fund (GDX).