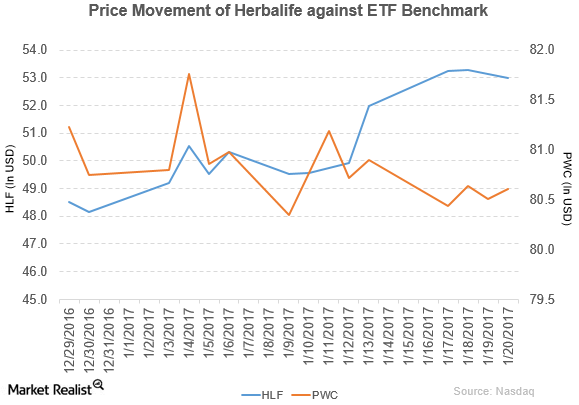 What's the Latest News on Herbalife?
Price movement
Herbalife (HLF) has a market cap of $4.7 billion. It fell 0.24% to close at $53.01 per share on January 20, 2017. The stock's weekly, monthly, and year-to-date (or YTD) price movements were 6.2%, 9.1%, and 10.1%, respectively, on the same day.
HLF is trading 5.9% above its 20-day moving average, 5.1% above its 50-day moving average, and 9.7% below its 200-day moving average.
Article continues below advertisement
Related ETF and peers
The PowerShares Dynamic Market Portfolio ETF (PWC) invests 0.55% of its holdings in Herbalife. The YTD price movement of PWC was -0.17% on January 20.
The market caps of Herbalife's competitors are as follows:
Latest news on Herbalife
Herbalife expects its 4Q16 net sales to be lower than expectation due to the strong US dollar and lower volumes. It expects its 4Q16 net sales to fall in the range of 4%–6% and also expects an impact of $0.40 per share on earnings due to the strong US dollar.
Reuters reported, "The U.S. government is investigating dietary supplement maker Herbalife over whether it violated foreign bribery laws while conducting business in China, the company revealed in a regulatory filing on Friday."
The report added, "Herbalife, in which a billionaire investor and adviser to President Donald Trump is the single largest shareholder, said that the US Securities and Exchange Commission had asked the company for records as part of its civil anti-corruption probe."
Article continues below advertisement
HLF's rating
Moody's reported, "Moody's Investors Service, ("Moody's") today assigned a Ba3 Corporate Family Rating ("CFR") and a Ba3-PD Probability of Default Rating to Herbalife LTD. ("Herbalife")." It also added, "At the same time Moody's assigned Ba1 (LGD2) ratings to the company's proposed first lien senior secured credit facilities. These include a $1.175 billion senior secured first lien term loan and a $150 million senior secured first lien revolving credit facility."
The report added, "The proceeds from the senior secured term loan will be used for general corporate purposes, including share repurchases and to pay transaction fees and expenses. The revolving credit facility will be used for working capital and general corporate purposes. Moody's also assigned a Speculative Grade Liquidity Rating at SGL-2. The rating outlook is stable."
Herbalife's performance in 3Q16
Herbalife (HLF) reported 3Q16 net sales of $1.12 billion, a rise of 1.8% over the net sales of $1.10 billion in 3Q15. Between 3Q15 and 3Q16, sales from the North America, EMEA (Europe, the Middle East, and Africa), and Asia-Pacific regions rose 9.9%, 10.5%, and 3.0%, respectively.
Sales from Mexico, South and Central America, and China fell 0.53%, 12.4%, and 4.8%, respectively, between 3Q15 and 3Q16. The company's gross margin rose 20 basis points, and its operating margin fell 120 basis points.
Herbalife's net income and EPS (earnings per share) fell to $87.7 million and $1.01, respectively, in 3Q16, compared with $93.6 million and $1.09 in 3Q15. It reported adjusted EPS of $1.21 in 3Q16, a fall of 4.0% from 3Q15.
Herbalife's cash and cash equivalents fell 11.4%, and its inventories rose 12.0% between 4Q15 and 3Q16.
For an ongoing analysis of this sector, please visit Market Realist's Consumer Discretionary page.